Looks like Trump continues to win his battle against the RINOs.
Trump released a statement endorsing Alaska Governor Mike Dunleavy(R).
He had one condition for the endorsement–he needed to not endorse RINO Lisa Murkowski.
Dunleavy agreed not to support Murkowski.
Alaska Gov. Mike Dunleavy (R) accepted former President Donald Trump's reelection endorsement, which is contingent upon him dissing current Alaska Sen. Lisa Murkowski (R).

Trump extended the conditioned endorsement Tuesday, saying while he supports Dunleavy's "strong and consistent" conservative leadership, Murkowski has been "very bad for Alaska."

…

"In other words, if Mike endorses her, which is his prerogative, my endorsement of him is null and void, and of no further force or effect," the former president explained.

On Thursday, Trump released a statement with a note from Dunleavy, confirming the governor agreed not to support Murkowski, who is also running for reelection in the U.S. Senate.

"Please tell the President thank you for the endorsement. With regard to the other issue, please tell the President he has nothing to worry about. I appreciate all 45 has done for Alaska and this country," Dunleavy wrote.
Donald Trump released this statement:
NEW!

President Donald J. Trump:

"This is why Mike Dunleavy of Alaska has been, and will be, a great Governor. He has the courage of his convictions. Lisa Murkowski is the "disaster from Alaska" who single-handedly blew ANWR, one of the largest energy sites in the world, and… pic.twitter.com/R9cSt8PKoO

— Liz Harrington (@realLizUSA) December 31, 2021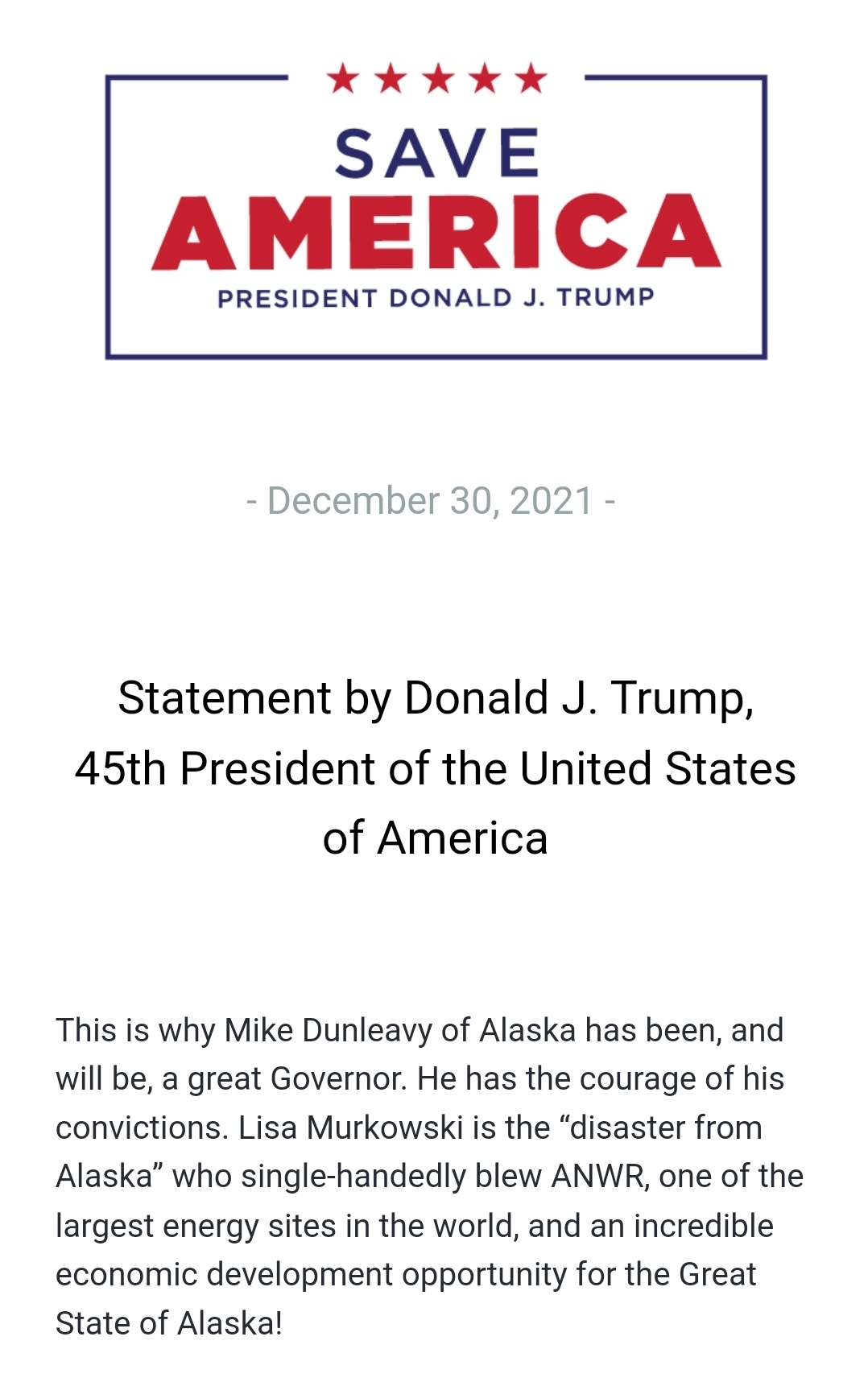 Murkowski previously lost the endorsement of the Alaska GOP:
For the antidote to media bias, check out ProTrumpNews.com
The Palmieri Report is a Pro-America News Outlet founded by Jacob Palmieri. The Palmieri Report is dedicated to giving people the truth so that they can form their own informed political opinions. You can help us beat Big Tech by following us on GETTR , Telegram, and Rumble.
We appreciate feedback. Click here to send us any comments and corrections. 
Listen to our Daily News Podcast!