More evidence has come to light showcasing a need for major reform as it pertains to immigration.
Nearly 120,000 foreign nationals have been allowed to enter the United States since 2005 despite coming from countries designated as state-sponsors of terrorism.
Previously unreleased data from the Department of Homeland Security (DHS) reveals the scale to which foreign relatives of immigrants in the U.S. have been able to mass immigrate to the country over the last few decades. This process is known as "chain migration," whereby new immigrants can bring an unlimited amount of foreign family members with them to the U.S.
In total, chain migration has imported more than 117,000 foreign nationals from the three countries that the State Department recognizes as state-sponsors of terrorism: Iran, Syria, and Sudan.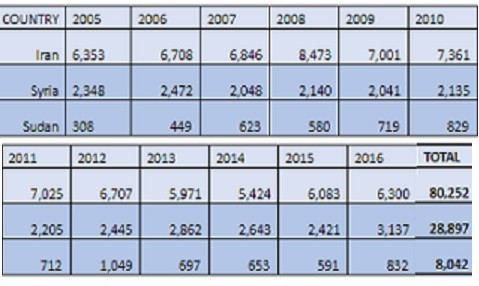 Our vetting process is widely disputed but this just showcases the fact it doesn't work. The idea that chain migration would apply to people from Terror-linked countries is beyond ridiculous. No-one claims all these people are terrorists but the idea that we should invite trouble onto our homeland is nonsensical. We have seen ISIS use people from these regions to carry out their worldwide Jihad and reforming our system to not allow this to happen is a top priority.