BY: Brent Scher
Washington Post reporter Janell Ross gave a presentation at a secretive California gathering where Democratic politicians, liberal activists, and their biggest donors plotted the future of the progressive movement without notifying her superiors that she would be attending, according to a Post spokesman.
The Democracy Alliance went to great lengths to keep the identities of its members and guests confidential at its fall investment conference last week at the La Costa Resort, but the Washington Free Beacon obtained a detailed conference agenda that lists both events and featured guests.
Among them was Ross, a national reporter who closely covered the 2016 presidential campaign for the Washington Post and has since continued to cover the Trump administration.
Ross sat on a panel to assist conference-goers on the topic of "getting the economic narrative right" in future elections, according to the agenda, which can be viewed in full here.
Ross, whose panel was sandwiched by a talk with liberal billionaire George Soros and a message by Democratic senator Amy Klobuchar (Minn.) on Russian interference in the 2016 election, helped attendees explore questions such as: "What do progressives stand for?"
"In this panel discussion, developed by the DA's Inclusive Economy Fund, we pose some fundamental questions, including: What do progressives stand for? How do we grapple with the tough issues? What story are we trying to tell and how does it play out in communities across the country? How do we translate what the polls and research tell us into the compelling narratives that will build the public will to reorient our economy and combat inequality?"
The panel was framed in the agenda as a response to the 2016 election, in which Democrats were criticized for failing to understand the economic concerns in areas of the country carried by President Trump.
"Progressives were knocked flat in 2016, but in our scramble to understand and react to what happened, we run the risk of forcing ourselves into false divides," the agenda writes. "We risk losing focus on the deep systemic flaws in our economic and social frameworks that leave vast numbers of Americans vulnerable and insecure."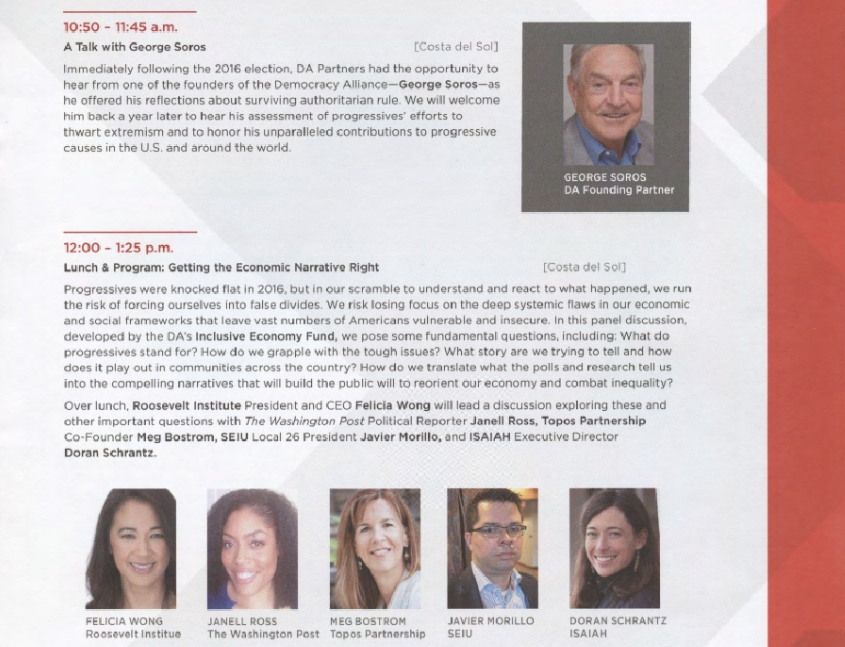 Ross told the Washington Free Beacon in a Monday email she was unable to answer questions on her appearance without clearance from the Washington Post's public relations team, to whom she reached out. Ross did not respond to numerous follow-up emails on Tuesday.
The Washington Post said it was unaware Ross was at the Democracy Alliance conference until the Washington Free Beacon asked whether she had permission to be there.
"We've only now learned about her participation in this event," said a spokesperson.
The spokesperson added that Ross has been "reminded" that the paper "discourages" involvement in events that may be "perceived as partisan."
"The Washington Post policy discourages participation in any activity that could be perceived as partisan," the spokesperson said. "She has been reminded of that."
Ross appears to have explained that she was there to discuss a book she is working on independently from the Washington Post.
"Our understanding is that she was there solely to discuss the subject of a book she is writing independently on economic inequality," the spokesman said.
Asked whether Ross had been given permission by public relations to comment on her appearance, the spokesperson said "that's all we have to say, but thank you for checking."
It remains unclear whether Ross was compensated by the Democracy Alliance for her trip or who covered the costs for her stay at the La Costa Resort, where rooms can cost as much as $579 a night. The Democracy Alliance did not respond to inquiries.
Ross did not publicly disclose her participation in the conference, where attendees were instructed not to share any details of the conference on social media or share them with the press.
"Democracy Alliance conference participants are entitled to the expectation that their conference experience and their identity should remain confidential," it says in participation guidelines distributed to attendees.
Her identity as a Washington Post reporter who covered the 2016 election was not hidden from attendees.
Ross was listed as a "special guest" in the conference agenda, described as "a national reporter for the Washington Post covering the social and political implications of democraphic change."
"She wrote rapid fire political analysis for the Post during the 2016 election focused on race, gender, and immigration," her bio says.
Ross is still covering the political landscape for the Post—a week before her appearance at the Democracy Alliance meeting she wrote an article headlined, "There's an important lesson Democrats should learn from Election Day 2017," which instructed the party to accept the fact that "white voters just aren't with the Democratic Party."
The Democracy Alliance conference lasted three days, and included a keynote address by House Minority Leader Nancy Pelosi (D., Calif.) titled, "Moving Beyond #Resistance—Learning from the Past, Mobilizing for the Future."