The Las Vegas Review-Journal dropped more information on the plans of the Las Vegas shooter:
Las Vegas Strip mass murderer Stephen Paddock used his Mandalay Bay hotel room to fire bullets at jet fuel tanks Sunday night, a knowledgeable source told the Las Vegas Review-Journal.
The bullets left two holes in one of two circular white tanks. One of the bullets penetrated the tank, but did not cause a fire or explosion near the Route 91 Harvest country music festival, another knowledgeable source said late Wednesday.
The tanks are roughly 1,100 feet from the concert site, where Paddock killed 58 people and wounded almost 500.
Within the past couple of days, a construction crew repaired and painted the holes, and FBI agents inspected the tanks and took measurements of the line of fire from Mandalay Bay, the sources said.
Paddock, a 64-year-old Mesquite resident, had broken two windows in his 32nd-floor suite — one in line with the concert site and the other with a direct view of the fuel tanks, one source said. The bases of private aircraft operators are close to the tanks.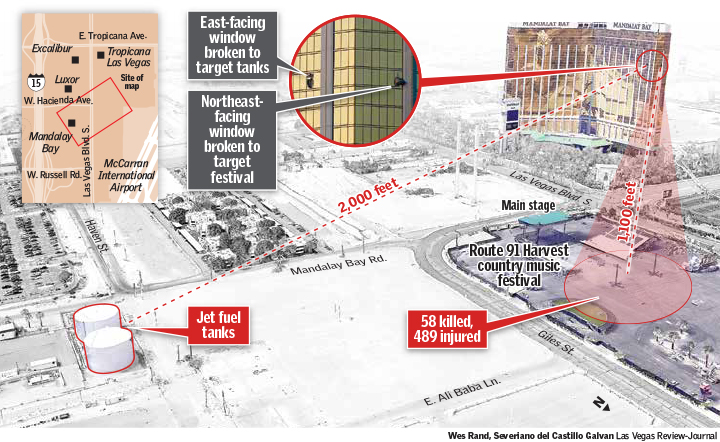 FBI spokeswoman Sandra Breault declined to comment. "We can't comment on an ongoing investigation," she said late Wednesday.
Paddock's shooting rampage was the deadliest in modern U.S. history. He killed himself as Las Vegas police closed in on his room.
Paddock was a retired accountant who had no criminal background and a passion for video poker. He lived in Mesquite with his girlfriend, Marilou Danley, and regularly came to the Las Vegas Strip to gamble.
It isn't known just how much more damage would have been done if these tanks blew up but it's becoming more and more certain that he had planned this long before. He picked what he thought was the area he would have the most casualties.
We'll continue to update this as we learn more.