BY: Susan Crabtree
An attorney for the Catholic archdiocese in northern Iraq accused the State Department and United Nations of failing to ensure that millions of dollars in U.S. taxpayer-funded foreign aid is actually helping to rebuild Christian and Yazidi communities destroyed by the Islamic State.
Stephen Rasche, the legal counsel and director of internally displaced people resettlement programs for the Catholic Archdiocese of Erbil, testified before a House panel Tuesday that there is so little oversight of the aid programs that they are having virtually no impact in Christian, Yazidi, and other religious-minority communities.
The aid programs are so mismanaged that some U.S. dollars are going to benefit Iraqis who took over areas that persecuted Christians fled even though the U.N. says the project is aimed at helping Christians, the lawyers said.
"While status reports from UNDP work in Ninevah purport to show real progress in the Christian-majority towns, on the ground we see little evidence of it," he told a House Foreign Affairs panel Tuesday.
Despite warnings from activists and Catholic leaders, the Trump administration has continued policies initiated under President Obama that direct aid to Iraq through the United Nations' Development Program (UNDP).
The United Nations has a "religion-blind" policy of distributing most of the money to refugee camps that Christians and Yazidis avoid out of fear of further persecution.
The few UNDP projects in Christian and Yazidi areas "in most cases cosmetic by nature," Rasche said, even though they appear to be far more extensive in official U.N. documents chronicling the work.
So-called "completed" school-rehabilitation projects in the towns of Teleskov and Batnaya "take the form of one thin coat of painting of the exterior surface walls, with freshly stenciled UNICEF logos every 30 feet."
Inside the buildings, he said, the rooms remain untouched and unusable.
"There is no water, no power, and no furniture," he said. "Bear in mind that these are government schools, which were due to open today."
The United Nations Children's Fund (UNICEF) is a UNDP partner.
The Washington Free Beacon obtained several photos of the UNDP projects in Teleskov showing the fresh exterior paint with the stenciled UNICEF logo while the insides of the buildings remained covered in dust and rubble.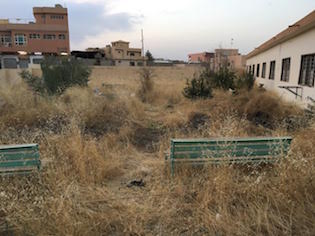 Far worse, Rasche said, is that UNDP reports claim that work projects in the town of Telkayf were directed to assist religious minority communities, but there are no remaining Christians there.
"There are no more Christians in Telkayf," Rasche said. "They were forced from this town by acts of genocide, crimes against humanity and war crimes."
ISIS was firmly in control of this town until last fall and many of its Sunni Arab residents remained, he said.
"Many of those residents, who openly welcomed ISIS while simultaneously reengaging in the forced and violent expulsion of the majority Christians, are still there."
The Islamic State expelled roughly 10,000 Christian families from the town, and there is no U.N. aid planning for those refugees, he said.
"That such a representation could be made in the UNDP report, without even the barest attempt at an explanatory note, shows clearly the profound depth of disconnect between representation and reality," he added. "In effect, U.S. taxpayers are financing the spoils of genocide."
The State Department did not immediately respond to a request for comment.
Shireen Jerdo Ibrahim, a Yazidi woman who was captured and tortured by ISIS but managed to escape, testified during the hearing that her community in Iraq is still waiting for U.S. and U.N. assistance they believed would come after then-Secretary of State John Kerry's genocide declaration in March of 2016.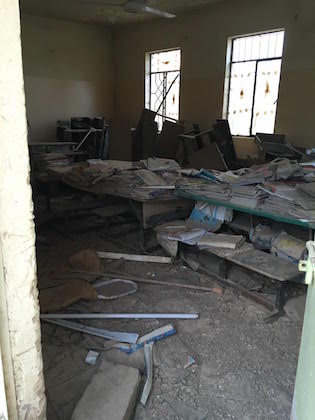 "Our hope was there would be steps following [the genocide declaration] to provide justice and protection for my people," she said. "We are still waiting for action."
Even though ISIS has been pushed out of the region, she said adherents of its ideology remain there so Yazidis and Christians and other religious minorities don't feel safe returning without some security measures in place.
The Catholic Archdiocese of Iraq is one of the only groups on the ground working to house and feed displaced Christians and Yazidis and help rebuild their homes. The Knights of Columbus, one of the largest Catholic charities, and Aid to the Church in Need, another global Catholic charity, are the main funders of the work, providing more than $26 million for the efforts over more than three years since ISIS began its onslaught in Iraq, Rasche said.
A bipartisan group of lawmakers in the House and Senate, along with human rights activists and Catholic groups, for months have pressed the State Department to direct money Congress appropriated to assist Christians, Yazidis, and other persecuted religious minorities in Iraq.
Instead, the State Department has continued the Obama-era policy of channeling most of its U.S. aid to Iraq through the United Nations.
Critics complain that despite this policy, the State Department in late September quickly dispatched $32 million help the Muslim-majority Rohingya, a persecuted minority group in Burma.
Rep. Chris Smith (R., N.J.), a longtime champion for improving human rights around the world, said during Tuesday's hearing that "career staff" at the State Department and the U.S. Agency for International Development (USAID) are "thwarting the commitment of the president, vice president, and Congress to give aid to Christian and Yazidi survivors of the ISIS genocide."
"These bureaucrats have refused to direct assistance to religious and ethnic minority communities, even to enable them to survive genocide," he said. "This obstruction is unacceptable, and I urge Secretary Tillerson and new USAID Administrator Green to put an end to it," he said.
Trump and Vice President Mike Pence repeatedly pledged earlier this year that they would make protecting Christians in the Middle East a priority.
Pence was particularly adamant in his promises during a world summit on the persecution of Christians in May. He said the administration would reaffirm "America's role as a beacon of hope and life and liberty."
The Free Beacon in July first reported on an effort by Obama holdovers at the State Department to avoid using the word "genocide" to describe the ISIS slaughter of Christians, Yazidis and other minorities in Iraq and Syria from speeches and formal documents.
Smith urged the Senate to vote on a bill he authored with Rep. Anna Eshoo (D., Calif.) that would explicitly authorize the State Department and USAID to direct U.S. aid to faith-based entities such as the Archdiocese of Erbil.
An aide to Senate Majority Leader Mitch McConnell (R., Ky.) did not have an update or announcement for potential floor consideration of the bill.
Congress earlier this year allocated more than $1.4 billion in funds for refugee assistance and included specific language to ensure that part of the money would be used to assist Yazidis, Christians, and Shia Muslim—all groups the State Department deemed victims of genocide in 2016.
While Tillerson affirmed the genocide declaration over the summer, critics say nothing has changed on the ground—that the aid is still not getting to the Yazidi and Christian communities.
"Even though the U.S. already has the authority to provide such assistance, we were aware some in the bureaucracy inaccurately claimed they lacked the authority and so we wanted to remove the excuse," Smith said.