The freight train of audits will not be stopped. 
Trump just released a statement blasting RINOs in Michigan blocking a statewide audit of the 2020 election.
He pointed out that they need to be primaried and those who do primary them will have the support of the MAGA movement across the country.
NEW!

I see primary challengers in the RINO Michigan Senators' futures! pic.twitter.com/F82Ii2pR3N

— Liz Harrington (@realLizUSA) July 12, 2021
PREVIOUS ARTICLE FROM THE PALMIERI REPORT
Trump released a statement exposing two Michigan state senators who are trying to stop an audit in Michigan.
The two state senators are Mike Shirkey and Ed McBroom.
He pointed out that the voter fraud investigation in Michigan was simply a cover-up.
.@POTUS45: "Michigan State Senators Mike Shirkey and Ed McBroom are doing everything possible to stop Voter Audits…Call those two Senators now and get them to do the right thing, or vote them the hell out of office!"

Mike Shirkey: (517) 373-5932

Ed McBroom: (517) 373-7840 pic.twitter.com/hy0fFmYl3Q

— Natalie Harp (@NatalieJHarp) June 24, 2021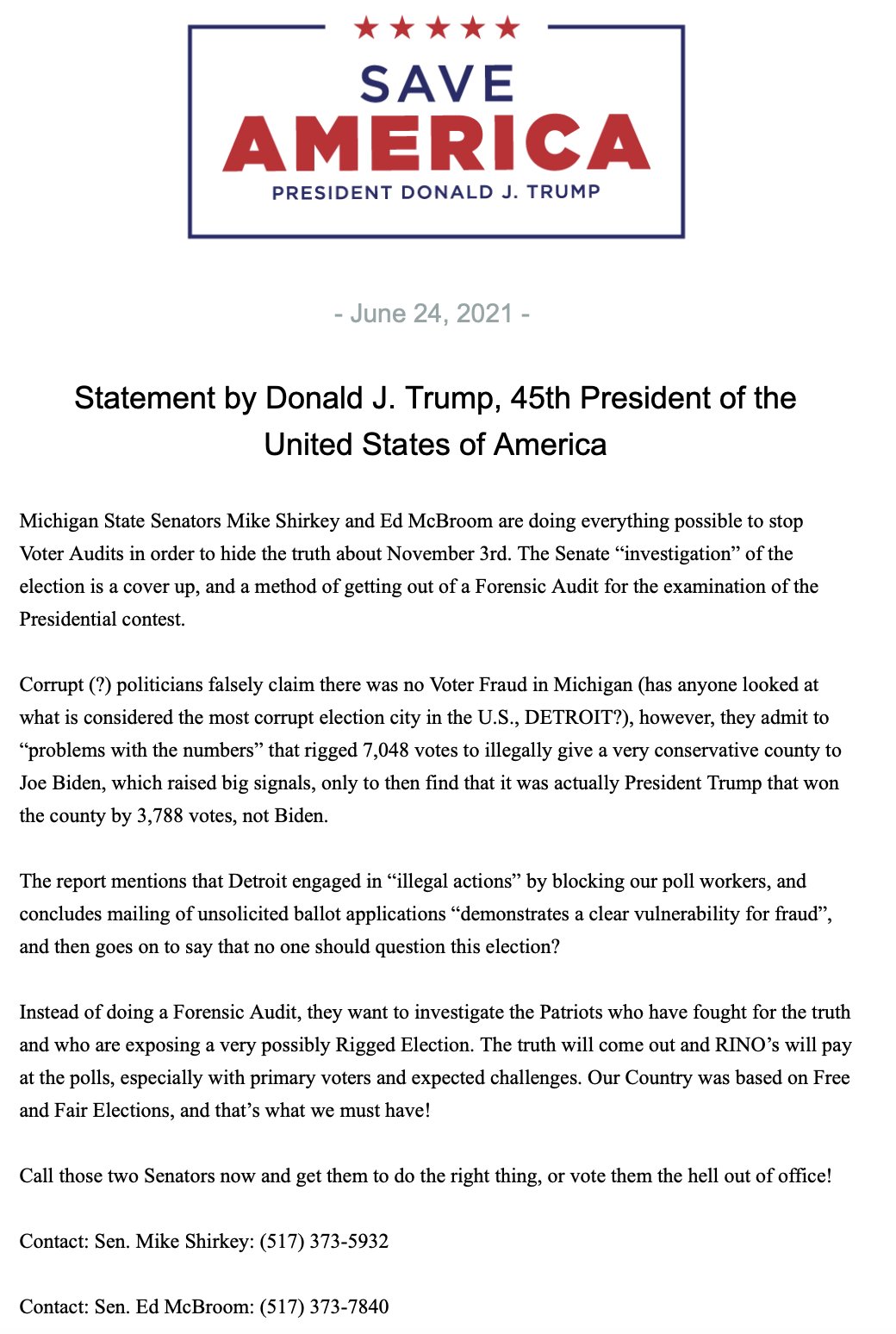 Ed McBroom has taken aim at prosecuting voter fraud whistleblowers rather than exposing voter fraud.
Furthermore, McBroom made it clear during an interview with Bridge Michigan that his report is meant to build the case for Nessel to prosecute prominent vote fraud whistleblowers. He said his report lays out "good reason" that vote fraud whistleblowers are "purposely defrauding people," which he claims would be a criminal act. He refers to attorney Matt DePerno, a lawyer who has led a high-profile voter fraud case in Antrim County, in particular.
The Navarro report outlined that there are 379,000 "possible illegal votes" in Michigan:
White House trade adviser Peter Navarro updated his report about alleged voting irregularities in the 2020 election to include data about Michigan.

The director of the Office of Trade and Manufacturing Policy posted a video on Vimeo on Monday explaining what he found in the Wolverine State using additional data and documents that he argues could flip the election from victory for President-elect Joe Biden to another term for President Trump.

"I've concluded that the number of possible illegal votes in the state of Michigan tops 379,000 ballots, more than twice the alleged victory margin of Joe Biden," Navarro said. Biden won the state of Michigan and its 16 Electoral College votes by roughly 150,000 ballots.
The Palmieri Report is a Pro-America News Outlet founded by Jacob Palmieri four years ago at the age of 19. Since its founding, it has gotten over 2M pages views and over 20k followers. The Palmieri Report is dedicated to giving people the truth so that they can form their own informed political opinions.