Drudge Alternative
It was exposed that Biden's strike, which allegedly killed a member of ISIS-k, actually killed a USAID worker.
A New York Times investigation has indicated that a drone strike supposedly targeting ISIS suicide bombers in Kabul following the attack at the airport actually killed an innocent aid worker and a family in a dense residential city block.

An article on the Times investigation, published on Friday, concluded that a drone strike misidentified an aid worker who was distributing food as an ISIS suicide bomber. Zemari Ahmadi, a casualty of the drone strike the day after a bombing at the Kabul airport killed 13 service members, was reportedly an employee of an American NGO called Nutrition and Education International.
The Palmieri Report previously reported that Biden had killed 9 civilians initially in the airstrike.
According to reporter Muslim Shirzard, no ISIS-K members were killed in the drone strike earlier today.

He claims that 9 people, including 6 children were killed.
The military said it believed Zemari Ahmadi's white Toyota Corolla, which it tracked by drone for eight hours that day, was packed with explosives. Security camera video we obtained showed him loading it with water containers for his home. I'll detail our findings in this thread. pic.twitter.com/1hEaFBmcDo

— Evan Hill (@evanhill) September 10, 2021
Now, we have this.
Trump has responded.
Statement regarding U.S. drone strike from Donald J. Trump, 45th President of the United States:

"They did this strike quickly, in order to show they are tough. Instead, they killed a USAID worker and many children." pic.twitter.com/45pFJCjlVR

— Election Wizard (@ElectionWiz) September 11, 2021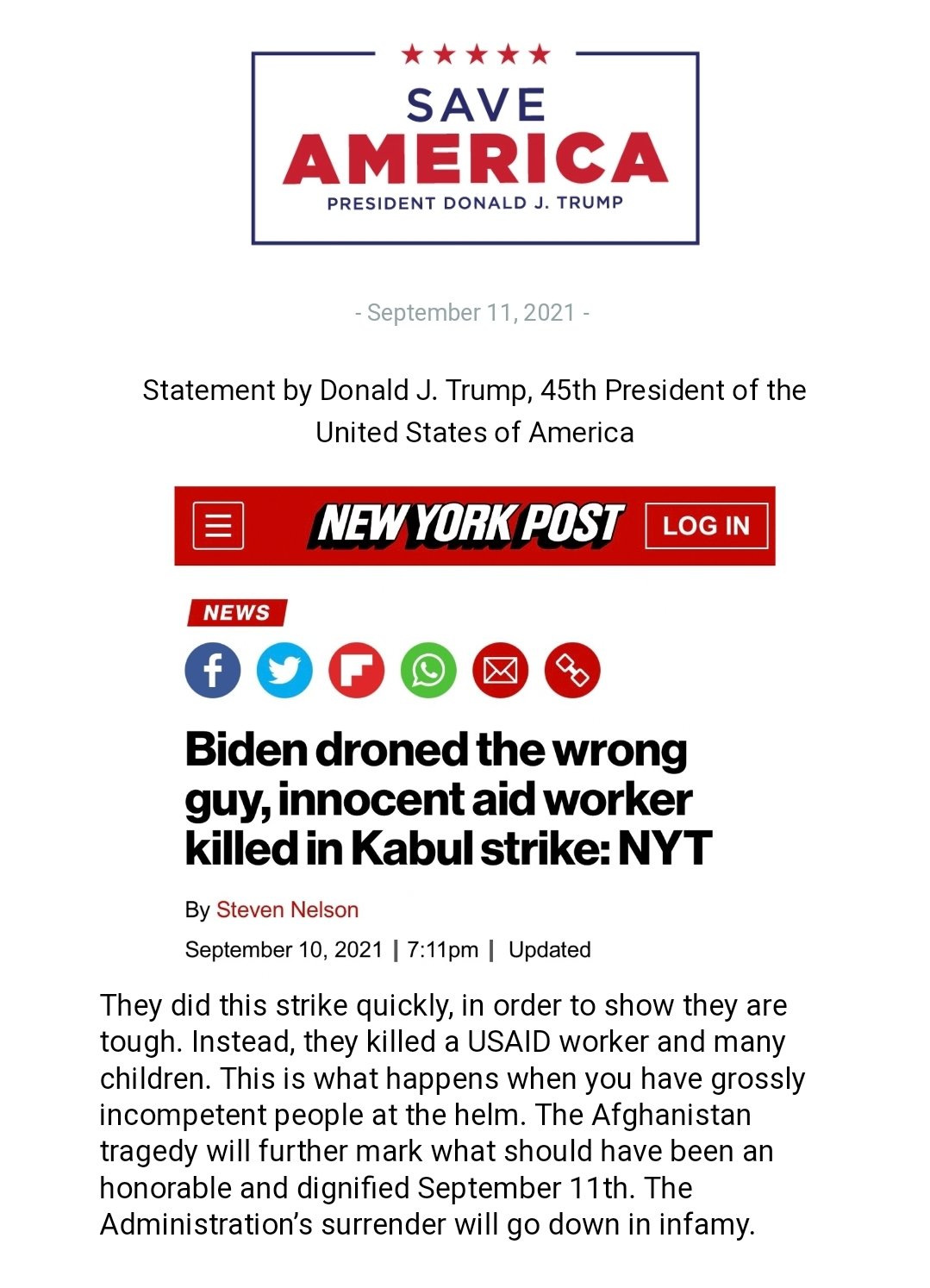 "They did this strike quickly, in order to show they are tough. Instead, they killed a USAID worker and many children. This is what happens when you have grossly incompetent people at the helm.

"The Afghanistan tragedy will further mark what should have been an honorable and dignified September 11th. The Administration's surrender will go down in infamy."
The Palmieri Report is a Pro-America News Outlet founded by Jacob Palmieri four years ago at the age of 19. Since its founding, it has gotten over 2M pages views and over 20k followers. The Palmieri Report is dedicated to giving people the truth so that they can form their own informed political opinions.