The fight for election integrity continues.
Trump just released a statement on the rally in Michigan that took place yesterday.
The rally was demanding an audit in Michigan.
He also blasted RINOs who are currently blocking it saying that they will be facing primary challenges.
NEW!

President Trump:

"Big rally in Michigan yesterday, unbelievable spirit and knowledge of what went on with respect to voting and vote counting in the 2020 Presidential Election. Detroit, considered for many years to be one of the most corrupt places in the United States… pic.twitter.com/QLLYuaPU5s

— Liz Harrington (@realLizUSA) October 13, 2021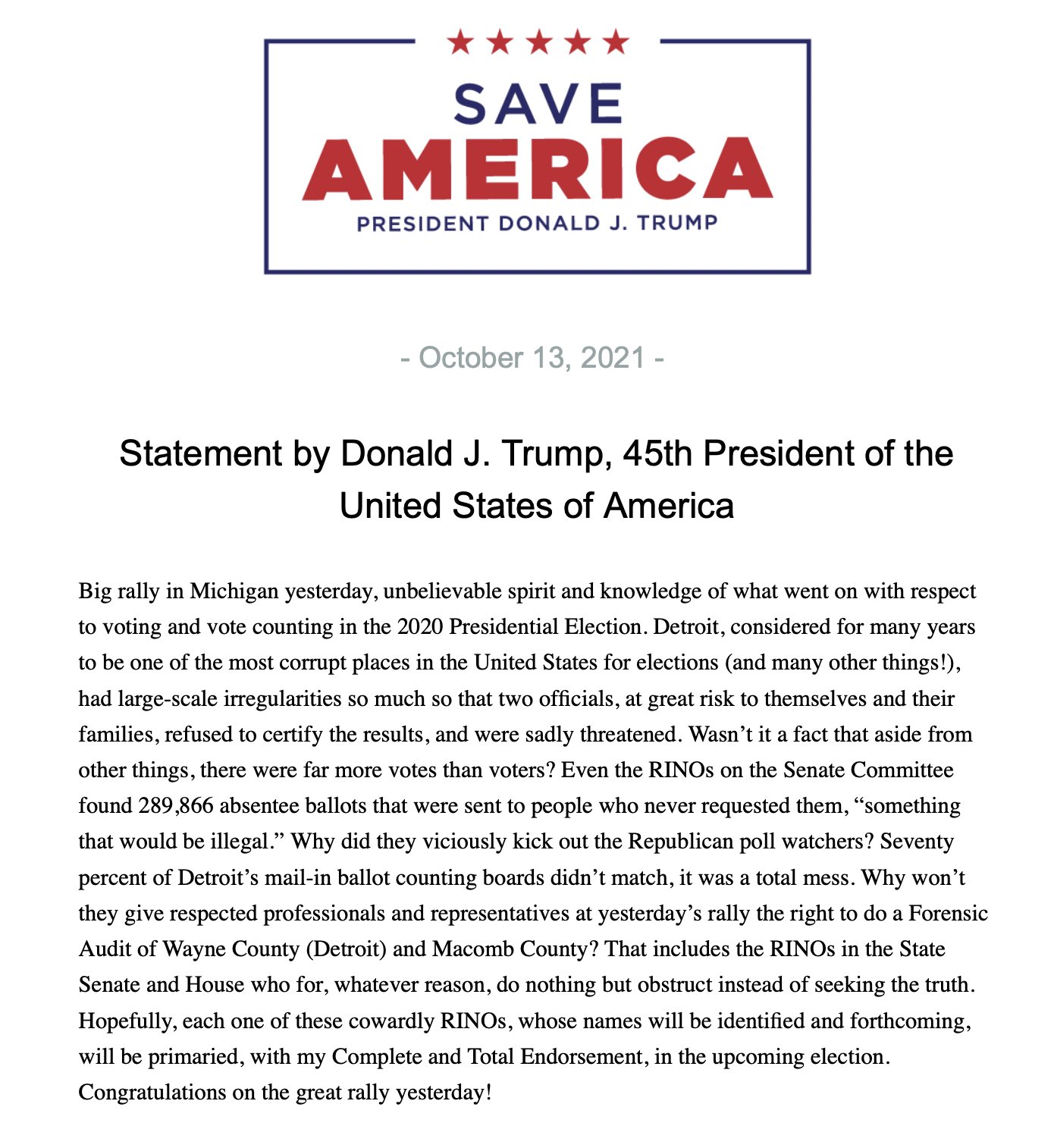 Those who attended
Conservative activists on Tuesday announced a petition initiative aimed at changing Michigan law on post-election audits in order to spur more investigation into 2020 results.

The Republican-majority state Legislature has not acted on demands for a "forensic audit" from supporters of former President Donald Trump who believe the results were tainted by fraud. Several hundred demonstrators rallied outside the state Capitol in Lansing on Tuesday, rejecting audits performed by the Michigan Secretary of State and a GOP-led investigation that both affirmed President Joe Biden's victory.
You can watch the full event here:
The Palmieri Report is a Pro-America News Outlet founded by Jacob Palmieri. The Palmieri Report is dedicated to giving people the truth so that they can form their own informed political opinions. You can help us beat Big Tech by following us on GETTR , Telegram, and Rumble.