Tim Michels, the Trump-endorsed candidate in the Wisconsin Governor race has been allowed back on the ballot by the Wisconsin elections officials.
This came after Democrats tried to get him kicked off the ballot because he had the wrong address on nomination papers.
The Democrats alleged that because of the error he only had 350 legitimate signatures and not the 2000 needed.
From Newsmax(Click to read the full article):
Wisconsin elections officials voted Friday to allow Donald Trump's endorsed candidate to stay on the Republican primary ballot in the presidential battleground state, pushing aside a Democratic challenge to his nomination papers.

The bipartisan Wisconsin Elections Commission voted unanimously to allow construction company co-owner Tim Michels to appear on the ballot.

…

Two days later, the state Democratic Party filed a complaint with the elections commission alleging that Michels used the wrong address on his nomination papers. It alleged that the mistake left Michels with only about 350 valid signatures. Michels needed 2,000 valid signatures to qualify for the ballot.
He celebrated the ruling in a statement:
Unanimous. Wisconsin Democrats Fail to Keep Tim Michels Off the Ballot. pic.twitter.com/1JVvOmtmVV

— Tim Michels (@michelsforgov) June 10, 2022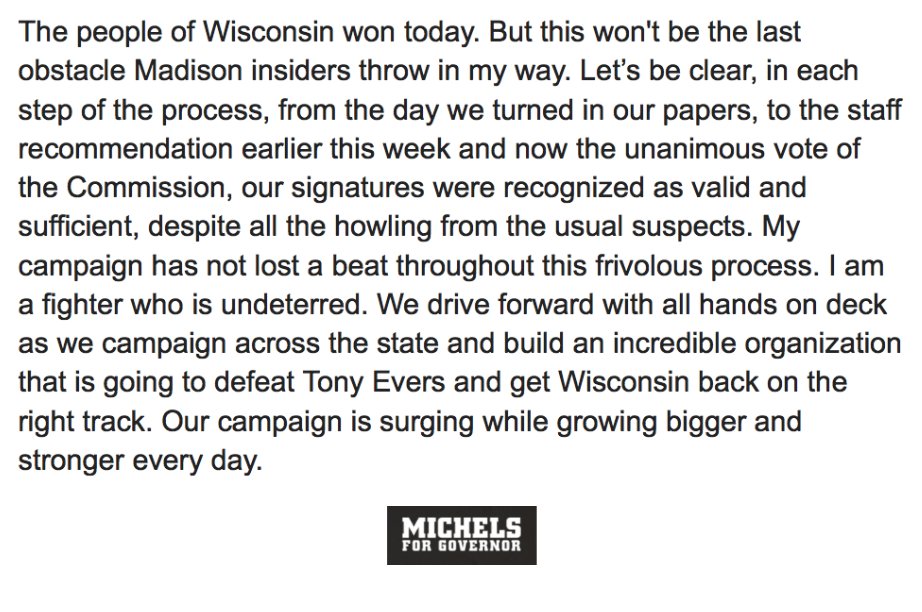 Isn't it odd that Democrats care so much about this but don't care about the blatant violation of election law in the 2020 election?
The Palmieri Report is a Pro-America News Outlet. The Palmieri Report is dedicated to giving people the truth so that they can form their own informed political opinions. 
Follow us on social media:
Follow our Rumble for daily uploads
Listen to our Daily News Podcast!