Trump just released a statement warning Americans about the refugees coming into America. 
He pointed out the lack of vetting.
NEW!

President Trump:

"Who are all of the people coming into our Country? In addition to the Southern Border, with millions of unvetted people pouring in, we now have tens of thousands of totally unvetted Afghans, who many say are not the ones that should have come in… pic.twitter.com/eWGvSh0uCa

— Liz Harrington (@realLizUSA) September 3, 2021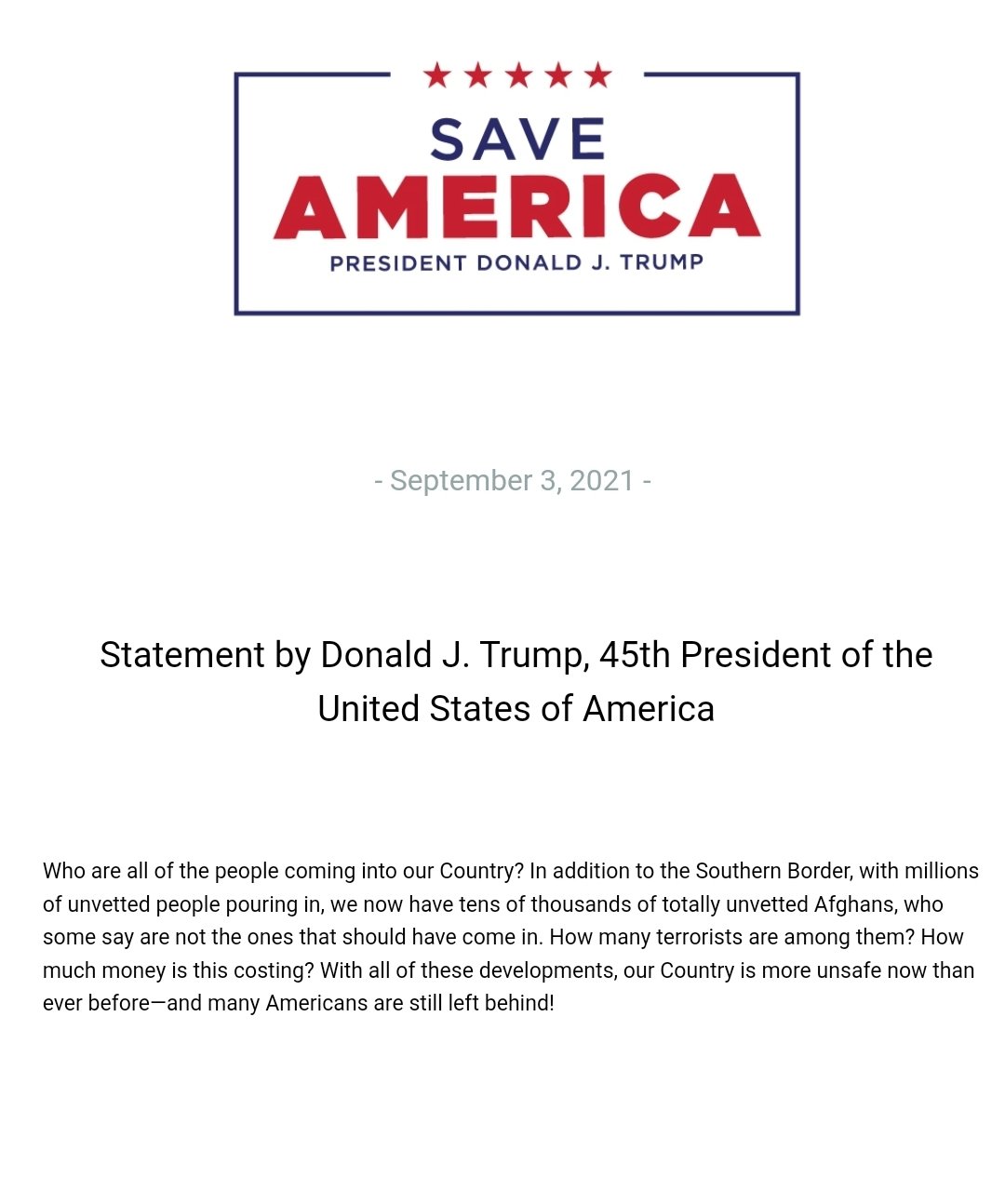 124,000 Afghans could be coming to the US.
The vetting process is practically nonexistent.
U.S. struggles to learn who's who in the airlift of 124,000 people from Afghanistan https://t.co/itnsnOZ0WN

— Bloomberg (@business) September 3, 2021
Days after the Biden administration finished evacuating about 124,000 people from Afghanistan, it's coming to grips with the reality that it doesn't know who many of those people are.

What's emerging, according to government officials and advocates, is that a small percentage of the Afghan citizens who got out are the ones the U.S. pledged to place at the top of its priority list: the thousands who had worked for the U.S. and its allies as well as employees of nongovernmental groups and media organizations.
We already know some men with child brides entered the US.
Afghan Refugees Brought Over to the U.S. From Third-World War Zone Include Men with Child Brides
The Palmieri Report is a Pro-America News Outlet founded by Jacob Palmieri four years ago at the age of 19. Since its founding, it has gotten over 2M pages views and over 20k followers. The Palmieri Report is dedicated to giving people the truth so that they can form their own informed political opinions.