Creepy Porn Lawyer Michael Avenatti switched his Twitter account to private after seeming to walk back his claim that he has an accuser of Brett Kavanaugh that was ready  to go public.
Attorney Michael Avenatti said his client might now not come forward against Brett Kavanaugh, and then locked his Twitter public profile from view.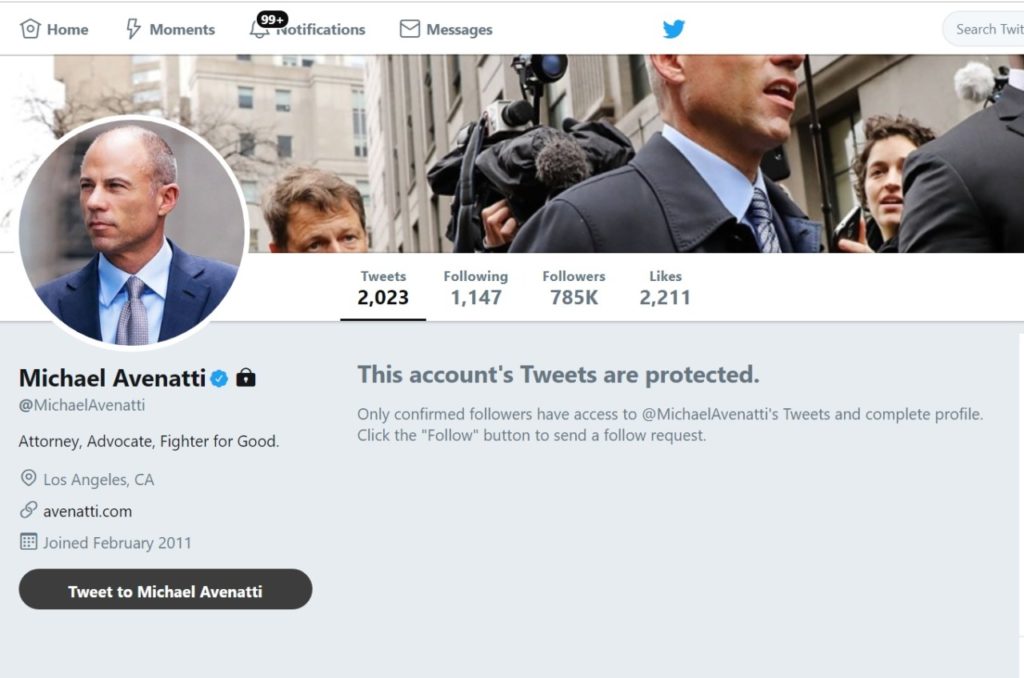 After two days of ginning up publicity with the news he has a "100 percent credible" accuser against Supreme Court nominee Brett Kavanaugh, adding that she has "multiple witnesses to corroborate her story" and that she is "willing to take a polygraph," Avenatti appeared to walk back that assurance  in a Tuesday morning tweet.

This is a striking revelation. Avenatti, who has been rumored as a Presidential Nominee in 2020 has been all over TV parading the claim that he can bring down Brett Kavanaugh with a new allegation from a women claiming Kavanaugh and Mark Judge were complicit in gang rapes in High School.
He apparently locked his account after suspiciously backtracking on the rollout of an alleged Kavanaugh accuser he claims to be representing.

— Richard Armande Mills (RAM) (@RAMRANTS) September 25, 2018
On top of locking his account, @MichaelAvenatti appears to be blaming his client for his own failure to deliver on claims he spent all of Sunday and Monday sensationalizing.

What kind of attorney pushes a public coming-out deadline on a client who might not be ready to do that? pic.twitter.com/aGtdPKAikZ

— Richard Armande Mills (RAM) (@RAMRANTS) September 25, 2018
Michael Avenatti locked his account because his lies are catching up to him (again).

Odd behavior for someone claiming they would make a good president.

— Richard Armande Mills (RAM) (@RAMRANTS) September 25, 2018
UPDATE BLAMES TRUMP BOTS!
…but blamed it on bots and trolls. pic.twitter.com/Dy5ZM3pZQQ

— Unseat The Dems (@Unseat_The_Dems) September 25, 2018
GETTY IMAGES:
[getty src="1025619556″ width="594″ height="401″ tld="com"]