Last night, RINO Liz Cheney attacked Trump over his statement on Colin Powell.
Liz Cheney Whines About Trump's Statement on Colin Powell, Calls it 'Pathetic Garbage'
She also continued to push lies from the Jan 6th committee.
Republican Rep. Liz Cheney blasted former President Donald Trump's ally Steve Bannon for refusing to cooperate with the House committee investigating the January 6 riot, saying that his claim of executive privilege is not only invalid, but suggests Trump was "personally involved" in the planning and execution of the events that day.

While the committee has yet to provide evidence directly linking the former President to those efforts, Cheney's comments reflect a suspicion among members of the panel that Trump is attempting to conceal certain communications that may be incriminating.
"Mr. Bannon's and Mr. Trump's privilege arguments do appear to reveal one thing, however: they suggest that President Trump was personally involved in the planning and execution of January 6th," Cheney said.
"And we will get to the bottom of that," she added.
Trump responded to Liz Cheney with a blistering response.
NEW!

President Donald J. Trump:

"Low-polling Liz Cheney (19%) is actually very bad news for the Democrats, people absolutely cannot stand her as she fights for the people that have decimated her and her father for many years. She is a smug fool, and the great State of Wyoming pic.twitter.com/EyJMmpOxHJ

— Liz Harrington (@realLizUSA) October 20, 2021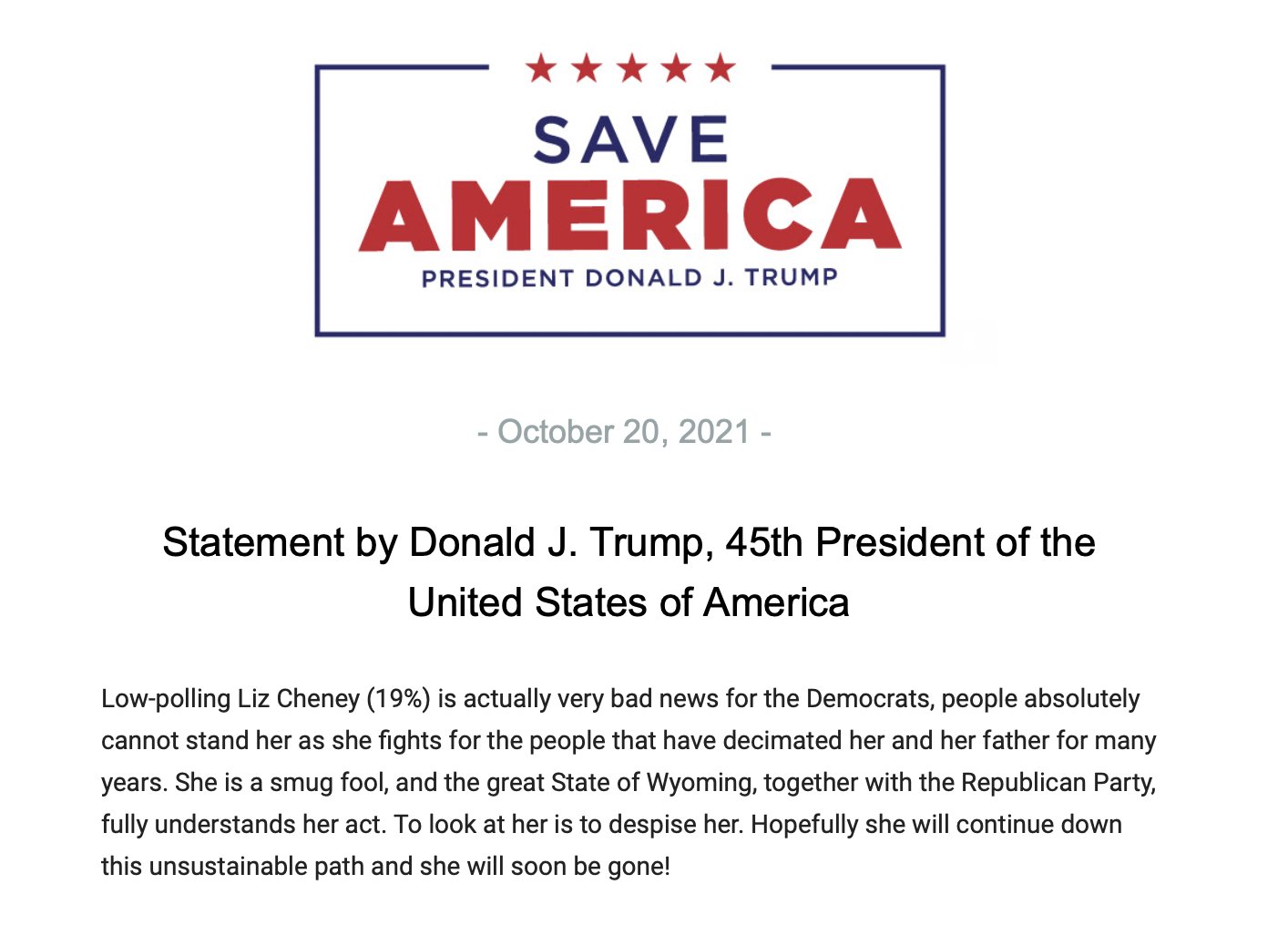 The Palmieri Report is a Pro-America News Outlet founded by Jacob Palmieri. The Palmieri Report is dedicated to giving people the truth so that they can form their own informed political opinions. You can help us beat Big Tech by following us on GETTR , Telegram, and Rumble.