BY:Â Brent Scher
The Republican National Committee transformed its Washington, D.C., headquarters into "Santa's Workshop" on Tuesday afternoon, creating an assembly line where hundreds of Christmas care packages were put together for troops deployed overseas.
Staffers packed into the lobby to put together over 300 care packages stuffed with items ranging from essentials such as socks, razors, and shampoo to snacks such as chips, protein bars, and candy. At the end of the assembly line was a large table of hand-drawn Christmas cards where staffers could write their own personal messages to the troops on the receiving end.
One box, packed up by RNC chairwoman Ronna McDaniel, was topped off with what was deemed the "golden ticket": a Make America Great Again hat signed by President Donald Trump.
Gifts also included playing cards, books, a football, and a collection of hot sauce packets including Cholula and Sriracha.
The specific goods packed in the boxes were selected with the advice of Chad Longell, a veteran who serves as the RNC's director of military and veteran engagement, who shared with staff how much receiving a care package meant to him when he was deployed.
"As a veteran, I can tell you getting a care-package during the holidays can really boost morale," Longell said. "They're far away from all these everyday supplies we can just easily walk a block or two to get—getting a little piece of home in a far away place really means a lot."
"I definitely want this to be an annual tradition for the RNC," McDaniel told the Washington Free Beacon. "My staff has loved getting involved in this. Most importantly, it's a way to support our veterans, who we should be thinking about all year long but especially during the holidays when they're away from families."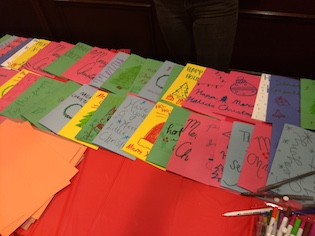 McDaniel said that her box containing the Trump-signed hat was also "snack heavy," due to advice she received from Longell and other veterans on staff.
"Chad and I were talking today about what it meant for him to get that package—he said he really liked the snacks, so I made my box a little snack heavy," she said.
Also on the receiving end of gifts from the RNC will be military dogs. Special care packages stuffed with squeaky toys, treats, bones, and even a cooling pad where dogs can lay on a hot day were also packed up to be sent overseas.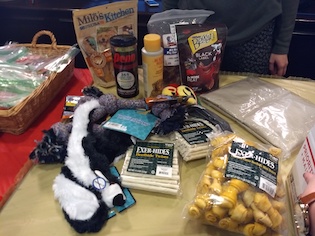 One military service dog, a black Labrador named Saint, was present at the RNC for the event. A group of disabled veterans also joined the RNC for the event.
"I think it's a great way to bring this country together, to unify around supporting our veterans," McDaniel said.
"We hope we'll set the tone," she said. "We want this to be a bipartisan effort. Everybody should be doing this."
Asked by the Free Beacon whether she believes the Democratic National Committee could afford to put on an event like the RNC's, McDaniel said, "I think everyone can afford to do something to say thank you to our veterans this holiday season."