Virginia was supposed to be blue for the foreseeable future.
That might all change.
A new poll from Monmouth found Dem candidate Terry McAuliffe and Republican candidate Glenn Youngkin tied.
VIRGINIA POLL: #VAGov2021
Registered voters: Even (D+5 in Sept & Aug)
46% @TerryMcAuliffe
46% @GlennYoungkin

Model A: R+3 (D+2-3 in Sept & Aug)
45% McAuliffe
48% Youngkin

Model B: D+3 (D+7 in Sept & Aug)
48% McAuliffe
45% Youngkinhttps://t.co/OMsesEGWbu pic.twitter.com/JOB1NS6fgN

— MonmouthPoll (@MonmouthPoll) October 20, 2021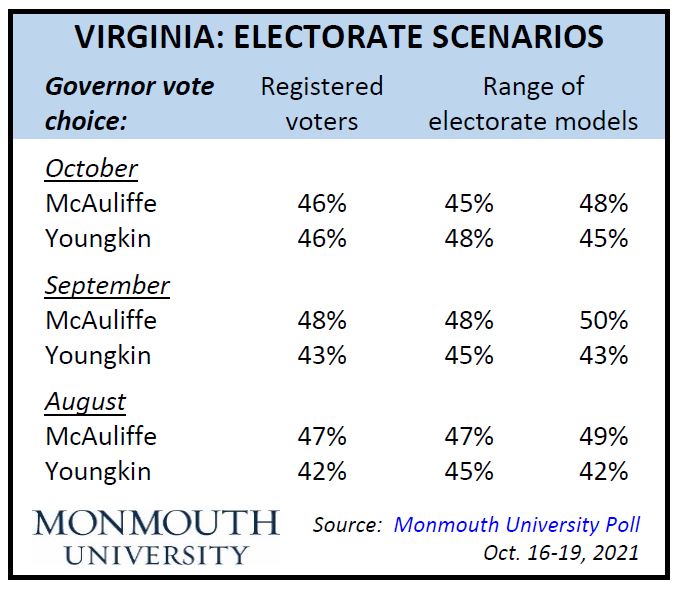 With two weeks to go before Election Day, Democrat Terry McAuliffe and Republican Glenn Youngkin are locked in a close battle for governor of Virginia. The last Monmouth ("Mon-muth") University Poll of the race before the election marks a gain for the GOP candidate from prior polls. Youngkin's improved position comes from a widening partisan gap in voter engagement and a shift in voters' issue priorities, particularly around schools and the pandemic.

Youngkin (46%) and McAuliffe (46%) hold identical levels of support among all registered voters. This marks a shift from prior Monmouth polls where the Democrat held a 5-point lead (48% to 43% in September and 47% to 42% in August). A range of probabilistic likely electorate models* shows a potential outcome – if the election was held today – of anywhere from a 3-point lead for McAuliffe (48% to 45%) to a 3-point lead for Youngkin (48% to 45%). This is the first time the Republican has held a lead in Monmouth polls this cycle. All prior models gave the Democrat a lead (ranging from 2 to 7 points). A traditional "cut-off" model similar to what Monmouth used in elections prior to the 2018 midterm – which includes registered voters who cast a ballot in at least 2 of the last 4 general elections and report being "certain" or "likely" to vote, or have already voted – shows a close contest with 48% for McAuliffe and 46% for Youngkin.

The biggest swing in support from Monmouth's last poll comes from independent voters, registering a 48% to 39% lead for Youngkin now compared with a 37% to 46% deficit in September. Youngkin has also cut into McAuliffe's advantage with women voters. The Democrat currently has a narrow edge among women (47% to 43%), down from a sizable 14-point lead last month (52% to 38%).
The Palmieri Report is a Pro-America News Outlet founded by Jacob Palmieri. The Palmieri Report is dedicated to giving people the truth so that they can form their own informed political opinions. You can help us beat Big Tech by following us on GETTR , Telegram, and Rumble.