The Philadelphia Fed is predicting an economic contraction in June.
This is the first contraction since the COVID lockdowns of 2020…

Looking into the details, we see that new orders contracted dramatically, as did the workweek as backlogs are worked through:

June prices paid fell to 64.5 vs 78.9
New orders fell to -12.4 vs 22.1
Employment rose to 28.1 vs 25.5
Shipments fell to 10.8 vs 35.3
Delivery time fell to 9.9 vs 17.5
Inventories fell to -2.2 vs 3.2
Prices received fell to 49.2 vs 51.7
Unfilled orders fell to -7.0 vs 17.9
Average workweek fell to 11.8 vs 16.1
It gets even worse when looking at the 6-month outlook: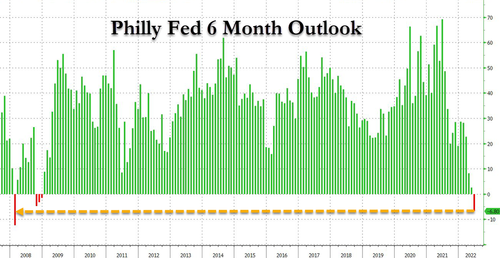 The Palmieri Report is a Pro-America News Outlet. The Palmieri Report is dedicated to giving people the truth so that they can form their own informed political opinions. Make sure to bookmark The Palmieri Report for new articles every 30 minutes!
Follow us on social media:
Follow our Rumble for daily uploads
Listen to our Daily News Podcast!