The Biden administration is finally admitting to their failure in Afghanistan.
Zalmay Khalilzad, The Biden administration's top Afghanistan envoy has resigned.
Zalmay led talks with the Taliban.
The Biden administration's top envoy for Afghanistan resigns from his post nearly two months after the chaotic and fatal U.S. withdrawal from Afghanistan. pic.twitter.com/1P876o5Akg

— Alex Salvi (@alexsalvinews) October 19, 2021
The top US envoy to Afghanistan is stepping down from his role less than two months after American forces withdrew from the country.

Zalmay Khalilzad led the US dialogue with the Taliban, but months of diplomatic talks failed to prevent the militant group from seizing power.

The Taliban took control in August after capturing the capital Kabul.

US Secretary of State Antony Blinken said Mr Khalilzad's deputy, Thomas West, would take over.

"I extend my gratitude for his decades of service to the American people," Mr Blinken said in a statement announcing Mr Khalilzad's resignation on Monday.

In a letter to Mr Blinken, Mr Khalilzad acknowledged that "the political arrangement between the Afghan government and the Taliban did not go forward as envisaged".
Here is the resignation letter: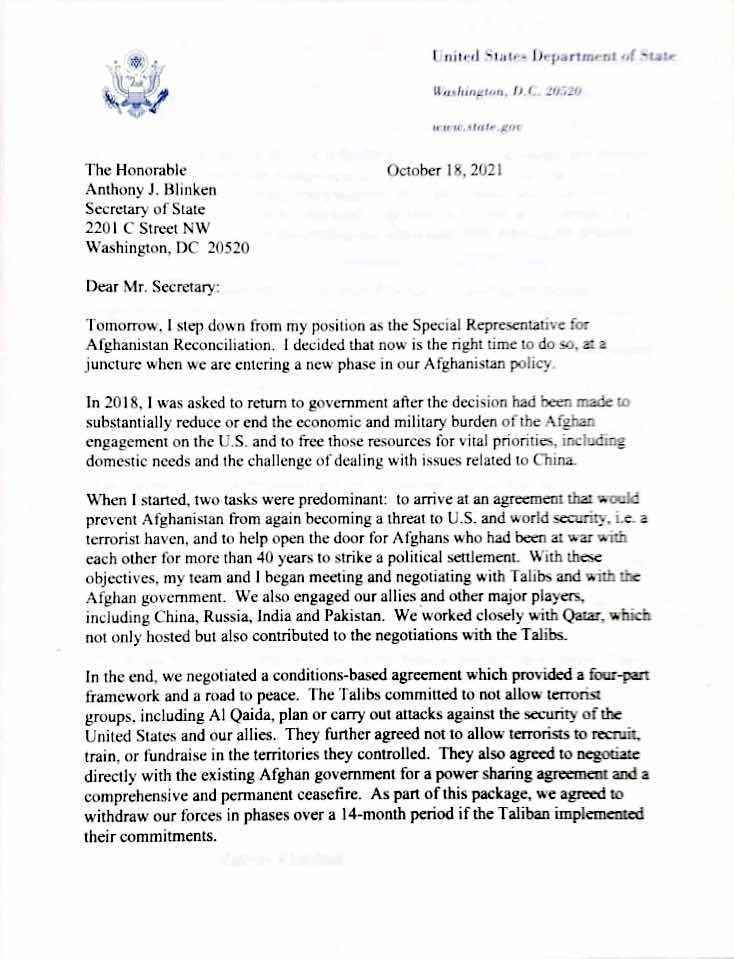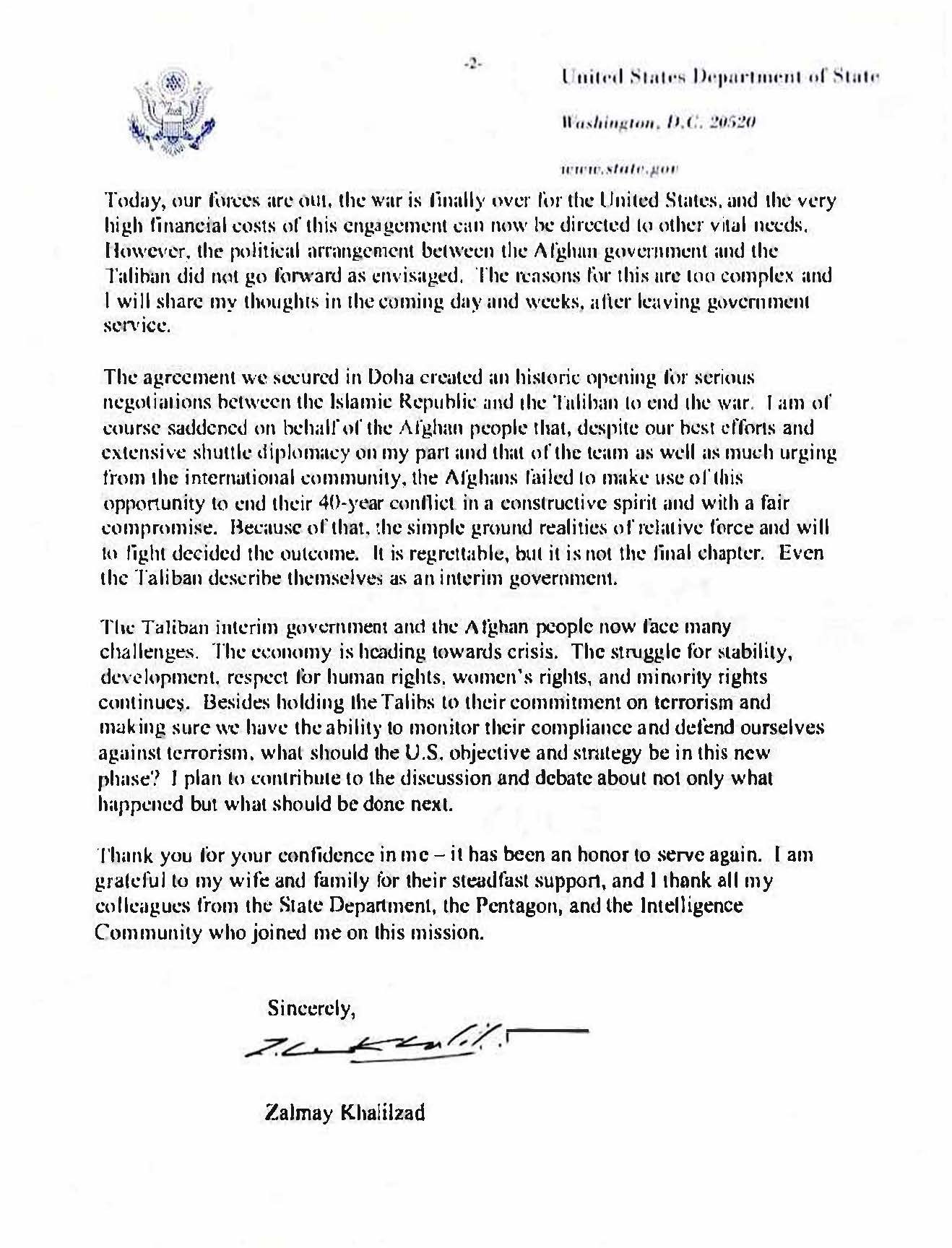 This comes after the State Department IG announced a series of investigations will be launched into the withdrawal.
The State Department's inspector general is launching a series of investigations into the Biden administration's last diplomatic moves in Afghanistan.

The reviews will focus on the State Department's Special Immigrant Visa program, Afghans processed for refugee admission into the U.S., resettlement of refugees and visa recipients, and the emergency evacuation of the U.S. Embassy in Kabul, according to an Oct. 15 memo to Secretary of State Blinken first reported by Politico and confirmed by Fox News.

Diana Shaw, the acting inspector general at State, told Congress that her office was launching "several oversight projects" related to the end of the U.S. military and diplomatic missions in Afghanistan.

"Given the elevated interest in this work by Congress and the unique circumstances requiring coordination across the Inspector General community, I wanted to notify our committees of jurisdiction of this important work," Shaw wrote in a letter to the foreign affairs and intelligence committees of both the U.S. House and the U.S. Senate.

Other inspectors general offices, including those at the Department of Defense and the Special Inspector General for Afghanistan Reconstruction, are also likely to launch similar probes of the withdrawal, Politico reported.
The Palmieri Report is a Pro-America News Outlet founded by Jacob Palmieri. The Palmieri Report is dedicated to giving people the truth so that they can form their own informed political opinions. You can help us beat Big Tech by following us on GETTR , Telegram, and Rumble.