The phony narratives surrounding Trump continue to be pushed.
The newest one was surrounding the National Archives obtaining boxes of records from Mar-a-Lago.
The National Archives last month obtained 15 boxes of presidential records that were being stored at former President Donald Trump's Mar-a-Lago Club.

Keeping the boxes of records at Mar-a-Lago violated the Presidential Records Act, which requires the government keep all forms of documents and communications related to a president's or vice president's official duties.

"As required by the Presidential Records Act the records should have been transferred to NARA from the White House at the end of the Trump Administration in January 2021," the National Archives and Records Administration said in a statement on Monday.

The Washington Post first reported the story.

"In mid-January 2022, NARA arranged for the transport from the Trump Mar-a-Lago property in Florida to the National Archives of 15 boxes that contained Presidential records, following discussions with President Trump's representatives in 2021," the National Archives said.
Now, we have this.
Trump has responded to the story and set the record straight.
NEW!

President Donald J. Trump:

"Following collaborative and respectful discussions, the National Archives and Records Administration (NARA) openly and willingly arranged with President Trump for the transport of boxes that contained letters, records, newspapers, magazines… pic.twitter.com/4r1wnufbWI

— Liz Harrington (@realLizUSA) February 10, 2022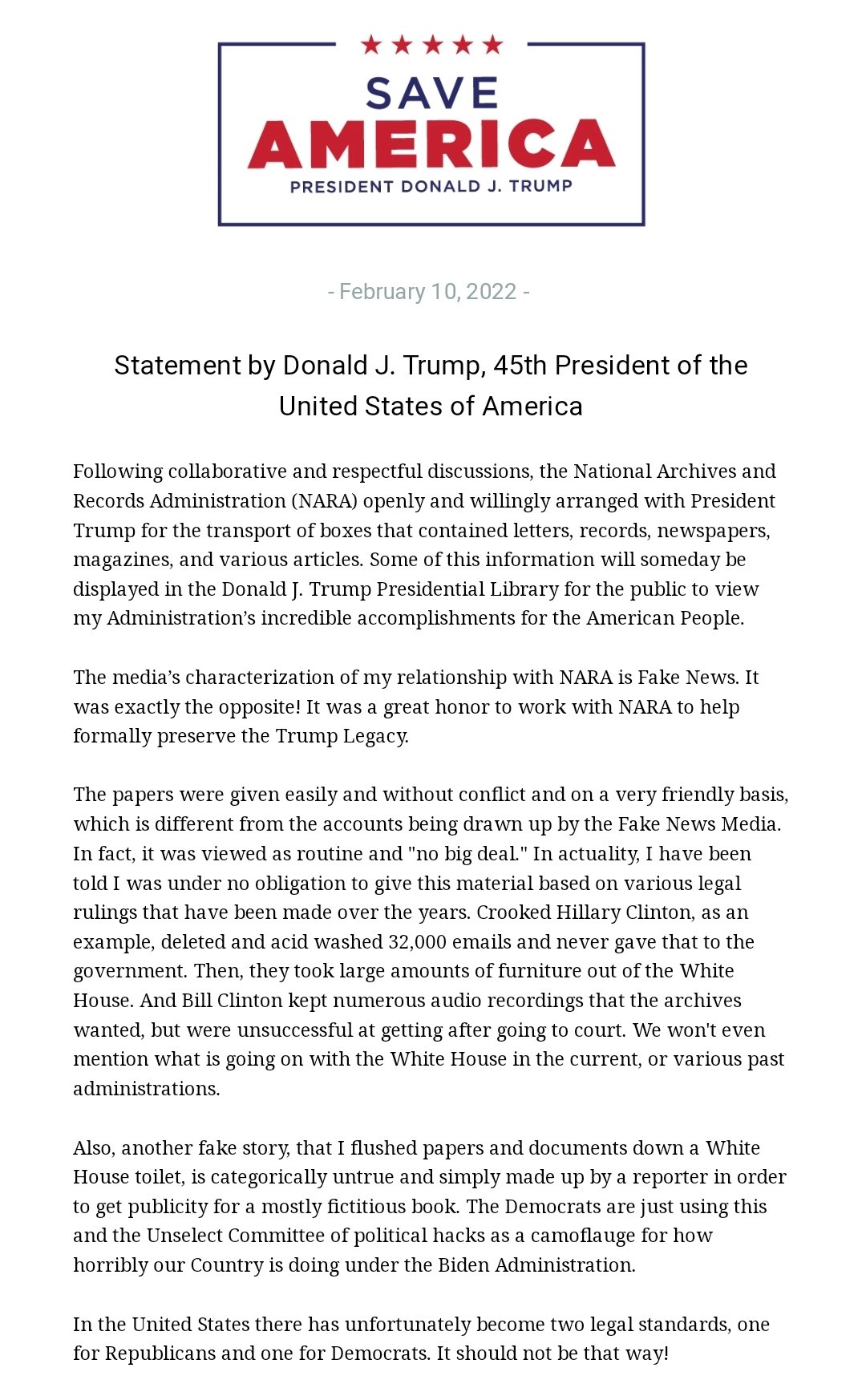 The Palmieri Report is a Pro-America News Outlet founded by Jacob Palmieri. The Palmieri Report is dedicated to giving people the truth so that they can form their own informed political opinions. 
Follow us on social media:
GETTR Link–Parler Link–Telegram Link
We appreciate feedback. Click here to send us any comments and corrections. 
Listen to our Daily News Podcast!