A Wisconsin judge recently handed Wisconsin a massive win for election integrity.
A judge recently kept in place a decision that banned drop boxes in Wisconsin.
From Milwaukee Journal Sentinel:
A Waukesha County judge on Friday kept in place his decision from last week that determined absentee ballot drop boxes can't be used in Wisconsin.

Waukesha County Circuit Judge Michael Bohren last week ruled ballot drop boxes could not be used in Wisconsin because state law says absentee ballots must be returned by mail or in person. He also determined voters cannot have someone else return their ballot for them.
Of course, RINOs are pushing for more drop boxes anyway.
Trump released a statement bashing the RINOs saying — "these fools are playing right into the Democrats' hand." 
NEW!

President Trump:

"Some RINO Republicans in Wisconsin are working hand in hand with others to have drop boxes again placed in Wisconsin. These fools are playing right into the Democrats' hand. Drop boxes are only good for Democrats and cheating, not good for Republicans." pic.twitter.com/LjdzmmViAJ

— Liz Harrington (@realLizUSA) January 24, 2022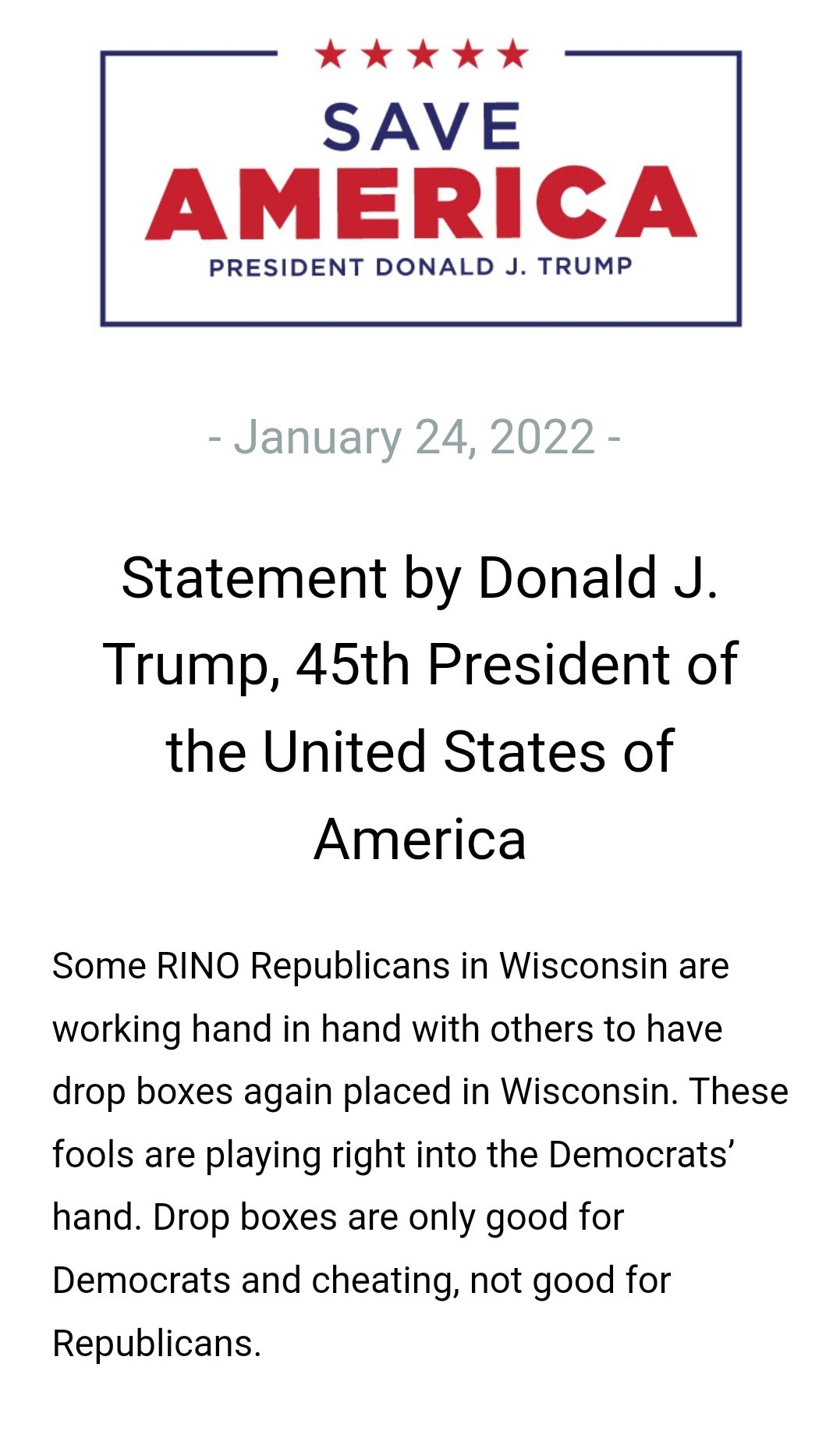 For the antidote to media bias, check out ProTrumpNews.com
The Palmieri Report is a Pro-America News Outlet founded by Jacob Palmieri. The Palmieri Report is dedicated to giving people the truth so that they can form their own informed political opinions. 
Follow us on social media:
GETTR Link–Parler Link–Telegram Link
We appreciate feedback. Click here to send us any comments and corrections. 
Listen to our Daily News Podcast!