Trump just released a statement responding to the developments in Fulton County. 
Statement by Donald J. Trump, 45th President of the United States of America pic.twitter.com/23U703USCm

— RSBN 🇺🇸 (@RSBNetwork) June 17, 2021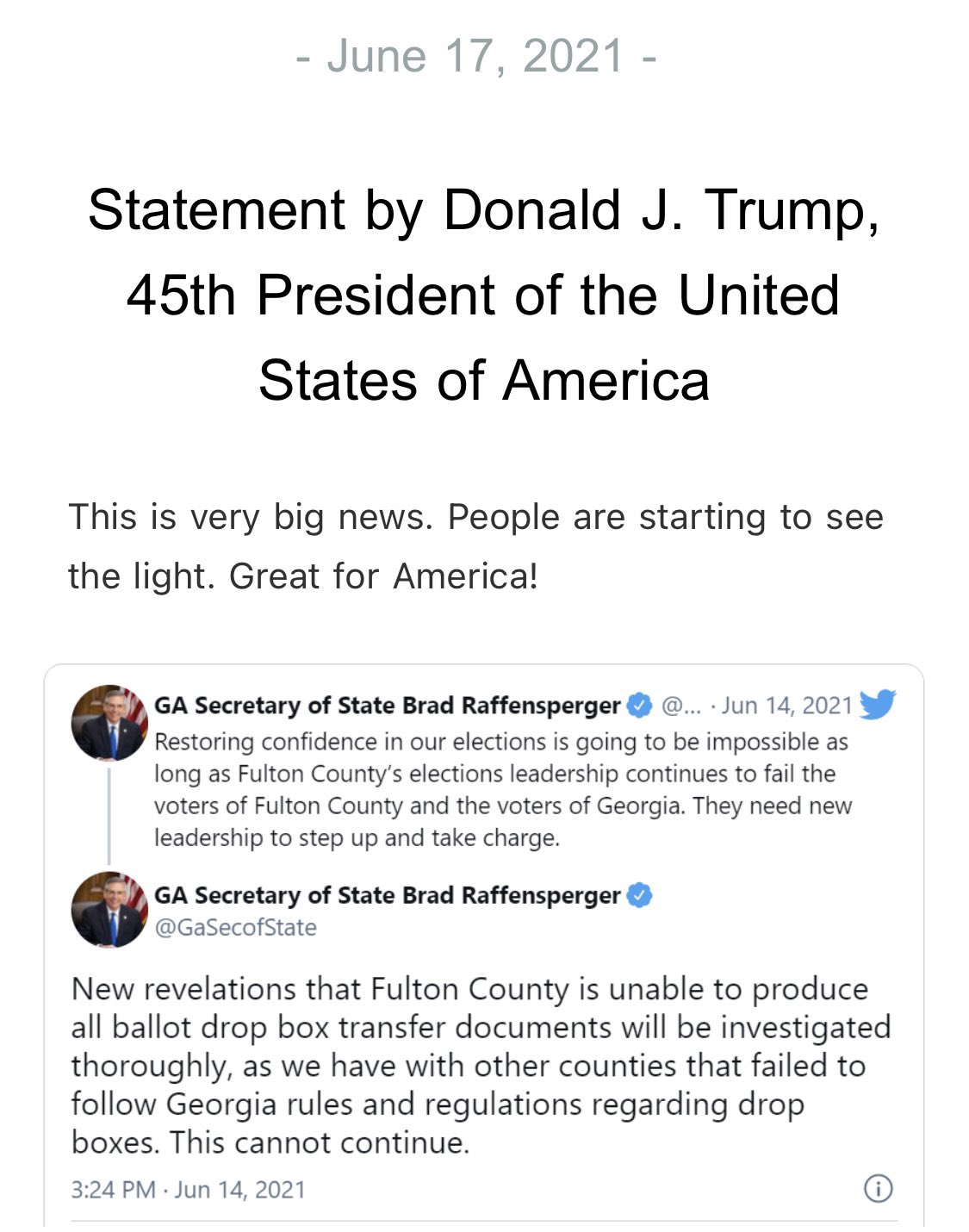 Recap on what is going on in Fulton County:
Huge update out of Fulton County. 
Documents obtained by Just The News from the prior audits in Georgia have raised serious alarms over how secure the 2020 election was.
Georgia audit documents expose significant election failures in state's largest county. Records suggest more than 100 batches of absentee ballots in Fulton County could be missing. | Just The News https://t.co/kPZi57wowI

— John Solomon (@jsolomonReports) June 17, 2021
More sewage from Georgia cesspool. time for Leg special session to get audit and canvas going. Kemp/Raffensberger useful idiots of Stacy get in gear.

Georgia audit documents expose significant election failures in state's largest county https://t.co/q0UrFugpx9 via @JustTheNews

— Peter Navarro (@RealPNavarro) June 17, 2021
Documents that Georgia's largest county submitted to state officials as part of a post-election audit highlight significant irregularities in the Atlanta area during last November's voting, ranging from identical vote tallies repeated multiple times to large batches of absentee ballots that appear to be missing from the official ballot-scanning records.

The problems in predominantly Democratic Fulton County potentially impact thousands of ballots in a presidential race that Joe Biden was certified as winning statewide by fewer than 12,000 votes.

The memos reviewed by Just the News include the handwritten tally sheets for all absentee ballots counted by the county as well as a private report from a contractor hired by Secretary of State Brad Raffensperger to monitor the Atlanta-area election process. The report, which chronicled seven days of problems, recorded troubling behavior like the mysterious removal of a suitcase of sensitive election data known as polls pads, used to authenticate voters.
Here are the problems the memos show:
More than 100 batches of absentee ballots — each containing approximately 100 or more ballots — were assigned tracking numbers before being sent to one of the five absentee vote-counting machines in Fulton County but are not subsequently recorded in the handwritten logs showing which batches were scanned and counted, raising concerns the ballots may be missing.

More than two dozen batches of absentee ballots were identified as having been double-scanned on the tally sheets.

Five sequential batches of absentee votes each appeared with the exact same vote count of 392 for Biden, 96 for President Donald Trump, and 3 for Libertarian Jo Jorgensen, a count that state officials admitted was a statistical impossibility.

Many control sheets for absentee ballot batches counted during the state's audit did not check a box indicating the ballot came from a secure container, raising the possibility that ballots were stored insecurely or that multiple batches of ballots were sealed in a single container.
Remember Fulton County officials admitted that they were missing proper chain of custody for over 18,000 ballots.
A Fulton County Election official admitted that the chain of custody documents for some 2020 absentee ballots deposited in drop boxes are missing.

385 transfer forms out of around 1,565 are missing.
RINO Secretary Of State Brad Raffensperger also announced an investigation into it.
Although, there is no reason to trust him at this point:
Georgia Secretary Of State Says He Will Investigate Fulton County Ballots Lacking Chain Of Custody
The 2020 election was a disaster. 
The Palmieri Report is a Pro-America News Outlet founded by Jacob Palmieri four years ago at the age of 19. Since its founding, it has gotten over 2M pages views and over 20k followers. The Palmieri Report is dedicated to giving people the truth so that they can form their own informed political opinions.