RINOs are now fighting among each other.
Senator Lindsey Graham (R-SC) has become the first Senate Republican to come out against Mitch McConnell's debt hike.
Sen. Lindsey Graham (R-S.C.) said on Wednesday that he opposes a short-term debt hike being hashed out by Senate leadership and that Republicans shouldn't be "held hostage" due to concerns that Democrats could change the filibuster.

Graham, the top Republican on the Budget Committee, is the first Senate Republican to speak out against the tentative deal that is still being worked out by Senate Majority Leader Charles Schumer (D-N.Y.) and Senate Minority Leader Mitch McConnell (R-Ky.).

"I do not support the Democrats' reconciliation package and I do not support raising the debt limit to make that level of spending possible. If Democrats want to raise the debt ceiling they can use the reconciliation process," Graham said in a statement.

A spokesperson for Graham confirmed that he was opposed to a short-term debt hike to December.
Mitch McConnell caved to the Democrats and proposed a deal that would help them suspend the debt ceiling.
Senate Minority Leader Mitch McConnell (R-Ky.) on Wednesday proposed a deal with Democrats that would help them suspend the debt ceiling before the United States defaults.

McConnell in a statement said Republicans would help Democrats expedite the process known as reconciliation to address the debt limit. He also said the GOP would let Democrats pass an emergency debt limit extension at a fixed dollar amount, which would cover current spending levels into December.

"This will moot Democrats' excuses about the time crunch they created and give the unified Democratic government more than enough time to pass standalone debt limit legislation through reconciliation," he said. "Alternatively, if Democrats abandon their efforts to ram through another historically reckless taxing and spending spree that will hurt families and help China, a more traditional bipartisan governing conversation could be possible."

The proposal seeks to quench Democrat complaints that Republicans may seek to delay a reconciliation vote, making it a risky maneuver because the U.S. faces a crisis if the ceiling isn't suspended or raised by Oct. 18, while reinforcing McConnell's position that most Republicans won't vote with Democrats to address the limit.
Trump released a statement blasting McConnell for folding to the Democrats.
He said that McConnell has all the cards and that it is time for him to play them.
NEW!

"Looks like Mitch McConnell is folding to the Democrats, again. He's got all of the cards with the debt ceiling, it's time to play the hand. Don't let them destroy our Country!" – President Donald J. Trump pic.twitter.com/YfDejLfade

— Liz Harrington (@realLizUSA) October 6, 2021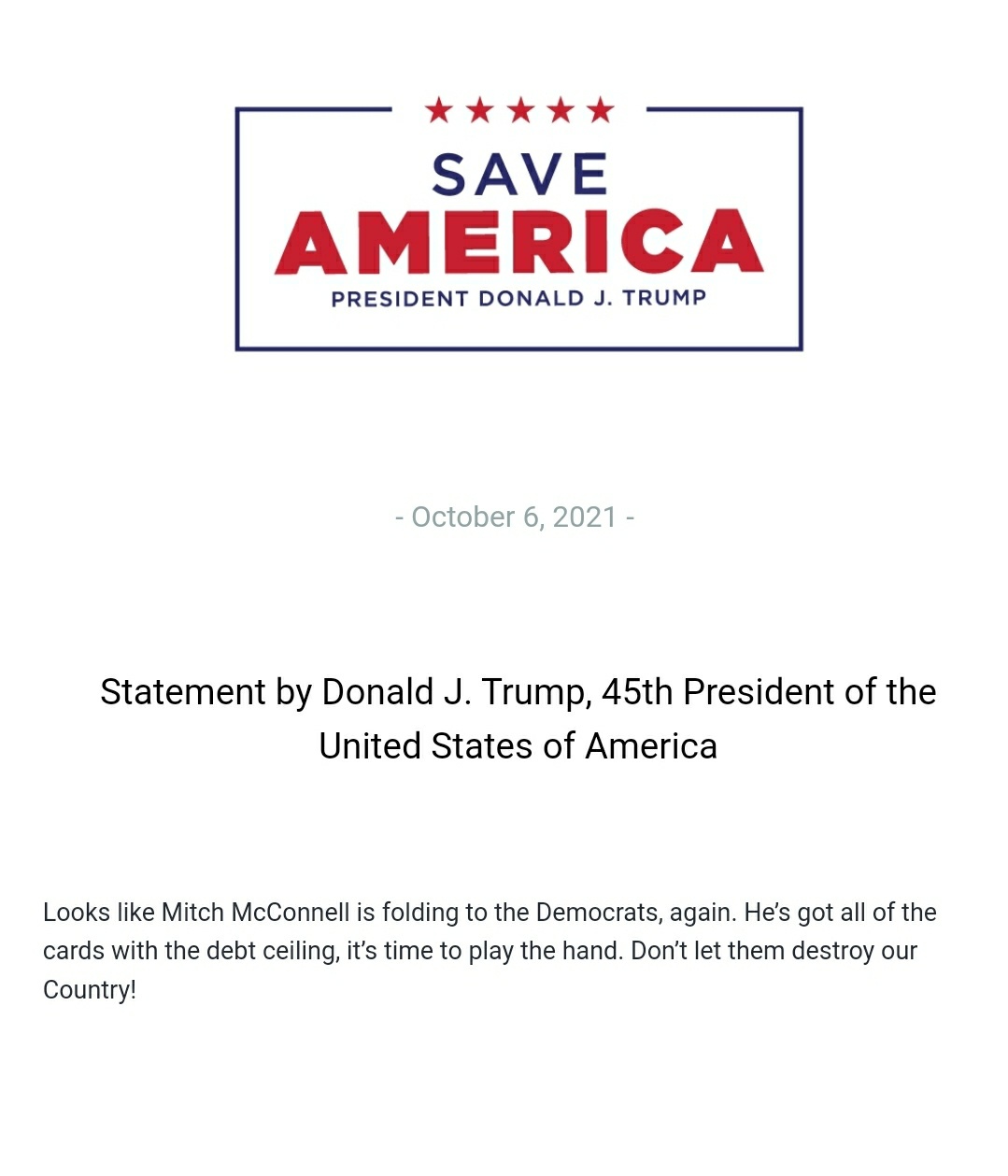 McConnell should not be leading the Senate GOP!
The Palmieri Report is a Pro-America News Outlet founded by Jacob Palmieri. The Palmieri Report is dedicated to giving people the truth so that they can form their own informed political opinions. You can help us beat Big Tech by following us on GETTR , Telegram, and Rumble.