RINOs stick together.
Former President George W. Bush is throwing a fundraiser for Liz Cheney.
Former President George W. Bush is throwing his fundraising support behind Rep. Liz Cheney (R-WY) in the race for Wyoming's single U.S. House district, backing one of the ten Republican House members who sided with Democrats in voting to impeach former President Donald Trump.

The Wall Street Journal reported Wednesday one Bush's first campaign events of the 2022 midterms will be a fundraiser to support Cheney.

…

Cheney is a daughter of Bush's vice president, Dick Cheney, and is one of the most outspoken critics of Trump. In return, Trump has called her a "warmongering fool" and a "horrible human being."

As Breitbart News reported, Cheney voted to impeach Trump for incitement of insurrection following the January 6 Capitol riot, ignoring the fact the former president did not call for violence or lawlessness. Rather, he continually called for peace as the chaos continued to unfold.
Trump has endorsed a primary challenge to Liz Cheney.
Trump officially endorsed Harriet Hageman.
Rep. Liz Cheney (R-WY) voted to impeach President Donald Trump.
NEW!

President Donald J. Trump announces endorsement of Harriet Hageman against warmonger and disloyal Republican Liz Cheney pic.twitter.com/LiJ6yPQxS8

— Liz Harrington (@realLizUSA) September 9, 2021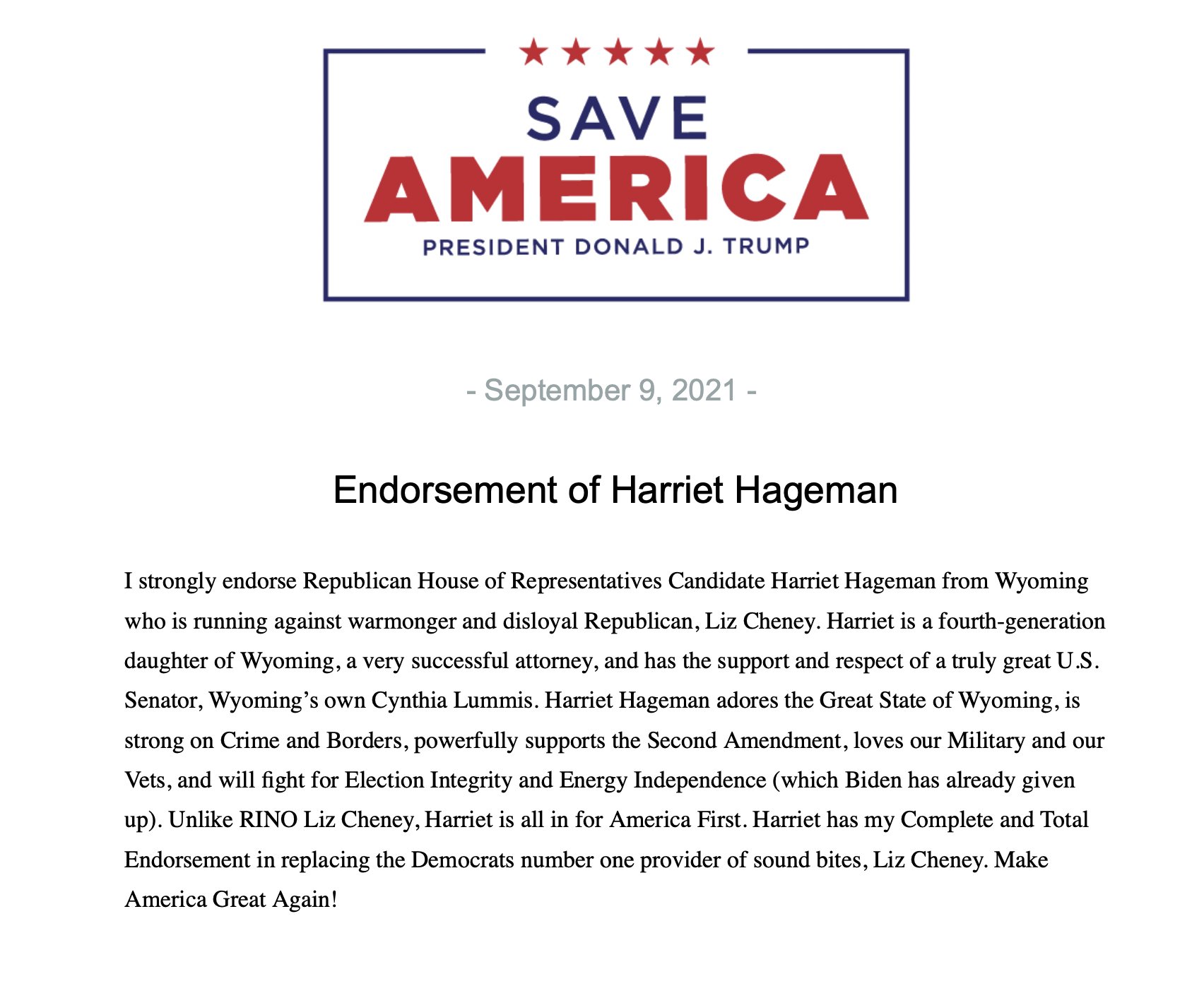 "I strongly endorse Republican House of Representatives Candidate Harriet Hageman from Wyoming who is running against warmonger and disloyal Republican, Liz Cheney. Harriet is a fourth-generation daughter of Wyoming, a very successful attorney, and has the support and respect of a truly great U.S. Senator, Wyoming's own Cynthia Lummis. Harriet Hageman adores the Great State of Wyoming, is strong on Crime and Borders, powerfully supports the Second Amendment, loves our Military and our Vets, and will fight for Election Integrity and Energy Independence (which Biden has already given up). Unlike RINO Liz Cheney, Harriet is all in for America First. Harriet has my Complete and Total Endorsement in replacing the Democrats number one provider of sound bites, Liz Cheney. Make America Great Again!"
Liz Cheney responded by saying "Bring it."
Here's a sound bite for you: Bring it. pic.twitter.com/VmET1JUs12

— Liz Cheney (@Liz_Cheney) September 9, 2021
Polling for Liz Cheney is not looking good.
A poll from McLaughlin & Associates, found that 77% of GOP primary voters say they would back someone other than Liz Cheney.
Results of new poll released Friday continue to show support for Republican Rep. Liz Cheney deep underwater among her Wyoming constituents as she prepares for a competitive primary.

According to a survey conducted by McLaughlin & Associates shown exclusively to the Washington Examiner, 77 percent of Republican primary voters said they would back a candidate besides Cheney in the upcoming contest. Only 23 percent said Cheney could count on their support.

More than half, 53 percent, described Cheney as "liberal," whereas only 26 percent labeled their at-large representative who has joined Democrats in defining moments as "conservative."
The Palmieri Report is a Pro-America News Outlet founded by Jacob Palmieri. The Palmieri Report is dedicated to giving people the truth so that they can form their own informed political opinions. You can help us beat Big Tech by following us on GETTR , Telegram, and Rumble.