Drudge Alternative
During an interview with Fox, Trump was asked about the 13 US service members killed in Kabul.
Trump said that the Gold Star families should be angry and that that there is no "no way this should have ever happened."
When asked whether he had words of comfort for Gold Star and military families and veterans, Trump replied: "It would be easier, and probably more politically correct, for me to just say, 'hang in there,' and just, 'something will happen.'"

"But they should be very angry," Trump said. "They cannot feel even a little bit good or optimistic, because we have an administration that doesn't know what they're doing."

Trump said that there is "no way this should have ever happened."

"They should have never taken the military out first—you take the military out last, after all of the people are out," Trump said, referring to the American citizens and Afghan allies left behind after the U.S. military evacuation mission, which expired on Aug. 31. The Biden Administration has said the mission has transitioned from a military mission to a "diplomatic" one.
Gold Star Mother Kathy McCollum, the mother of Lance Cpl. Rylee McCollum who was killed in Kabul released a statement unloading on Biden and saying she wants Trump to run in 2024.
She called out both Biden and Pelosi for their disrespect of her son.
Here is her statement:
"Thank you. Just want the family to know I support them. We need the corrupt pseudo president gone. President Trump has to run. My son should not be gone. President Trump would never allowed this to happen. We need him back in office to save this country. Just like he said years ago on Oprah. He would run when our country needed him. We need him. I can't live with knowing that my son's life was taken for nothing. So Biden could repay his debt to China. They will now have full control of Afghanistan and my son will be a sacrificial lamb. My son was murdered for Biden optics. I will become more vocal soon. Grieving and not sure I can control my mouth. But watched Biden disrespect my son while I was standing across from him and he was checking his watch, and then Pelosi denying my son recognition and turning her back. Just as she tore up Donald's speech. We cannot give up our country. So even if no one gets back with me. I will always fight for the Trump administration just as my son did."
Trump then responded.
NEW!

President Donald J. Trump:

"Thank you, Kathy. America feels your loss and fully understands your pain. Rylee will never be forgotten."

Read the message from Kathy McCollum, Mother of Lance Cpl. Rylee McCollum, USMC: pic.twitter.com/crBnWfTaUb

— Liz Harrington (@realLizUSA) September 8, 2021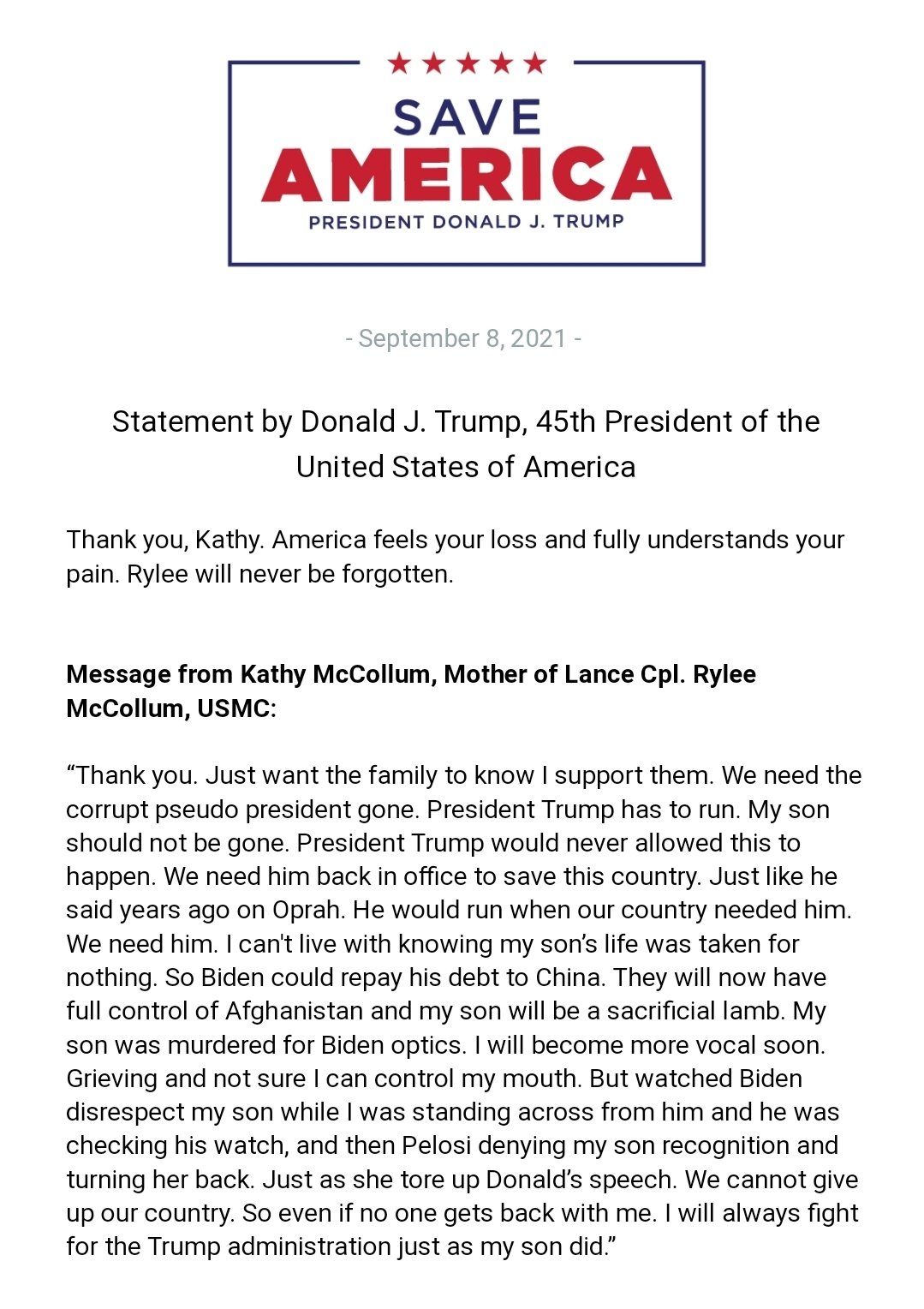 The Palmieri Report is a Pro-America News Outlet founded by Jacob Palmieri four years ago at the age of 19. Since its founding, it has gotten over 2M pages views and over 20k followers. The Palmieri Report is dedicated to giving people the truth so that they can form their own informed political opinions.