Bombshell from Matt Gaetz
Matt Gaetz sent a letter to FBI Director Christopher Wray demanding answers on the FBI's role in the events that took place on January 6th.
BREAKING: Congressman Matt Gaetz calls on FBI Director Christopher Wray to fully disclose the role and involvement of FBI operatives during the January 6th Capitol riot.

More details coming. pic.twitter.com/lviUHfhLyW

— Rep. Matt Gaetz (@RepMattGaetz) June 16, 2021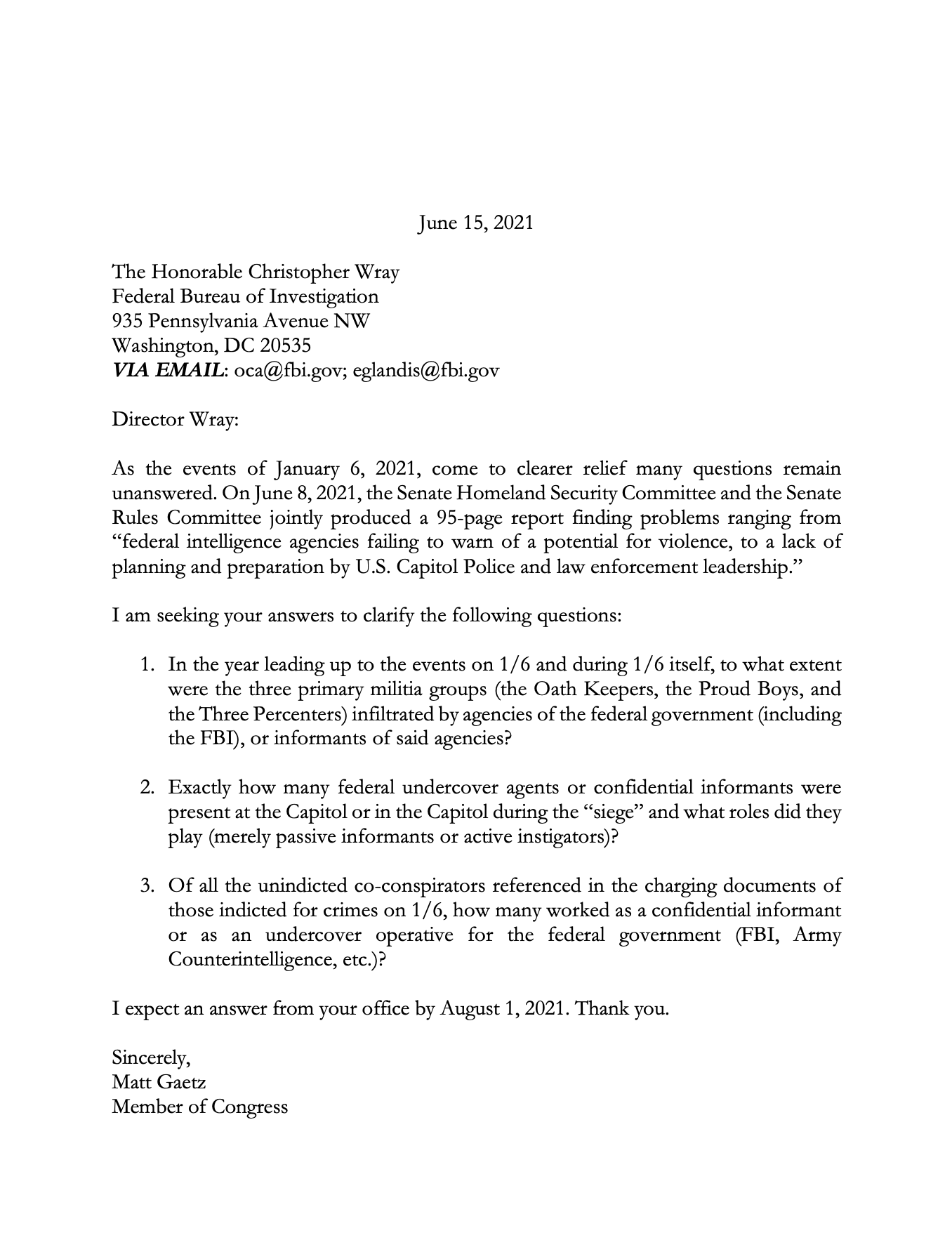 This comes one day after Revolver News dropped a bombshell report outlining the fact that the federal government may have been involved on January 6th:
Bad news for Christopher Wray

I'll be on @TuckerCarlson tonight to discuss the bombshell RevolverNews piece on 1/6

Was 1/6 an intel failure or an intel setup?

Please share and help this become the biggest story in countryhttps://t.co/0n0XxrtRmo

— Darren J. Beattie 🌐 (@DarrenJBeattie) June 15, 2021
Of all the questions asked, words spoken, and ink spilled on the so-called "Capitol Siege" of January 6, 2021, none hold the key to the entire event quite like what Sen. Amy Klobuchar asked of Christopher Wray.

The Democrat from Minnesota asked the Trump-appointed FBI Director: Did the federal government infiltrate any of the so-called "militia" organizations claimed to be responsible for planning and executing the Capitol Siege?

Christopher Wray is able to uncomfortably weasel his way out of answering the question directly, partially because Klobuchar does him the courtesy of not asking him the question directly. Klobuchar instead asks the FBI director if he wishes he had infiltrated the militia organizations allegedly involved in 1/6 — assuming from the outset that there was in fact no infiltration, thereby providing the FBI director an easy way to avoid addressing the question one way or another.
Here is the segment from Tucker Carlson Tonight:
BREAKING: @DarrenJBeattie of Revolver News breaks down the involvement of FBI operatives who organized and participated in the January 6th Capitol riot. pic.twitter.com/t1UOnT5zgc

— Rep. Matt Gaetz (@RepMattGaetz) June 16, 2021
The Palmieri Report is a Pro-America News Outlet founded by Jacob Palmieri four years ago at the age of 19. Since its founding, it has gotten over 2M pages views and over 20k followers. The Palmieri Report is dedicated to giving people the truth so that they can form their own informed political opinions.