According to Human Events Senior Editor Jack Posobiec, Labour Party party members are saying that Joe Biden is struggling to keep up at the G7.
The source said that it is "all so new" for Joe Biden and that his "note cards have proven completely useless".
The source then texted that Tory leadership was saying even worst things about Joe.
This came from a White House official. 
BREAKING: Labour Party member comments "At least Trump was attentive," says Biden can't keep up with G7 events or follow note cards, per WH official to @HumanEvents pic.twitter.com/oHCoTJD2UM

— Jack Posobiec 🇺🇸 (@JackPosobiec) June 10, 2021
Here are the messages: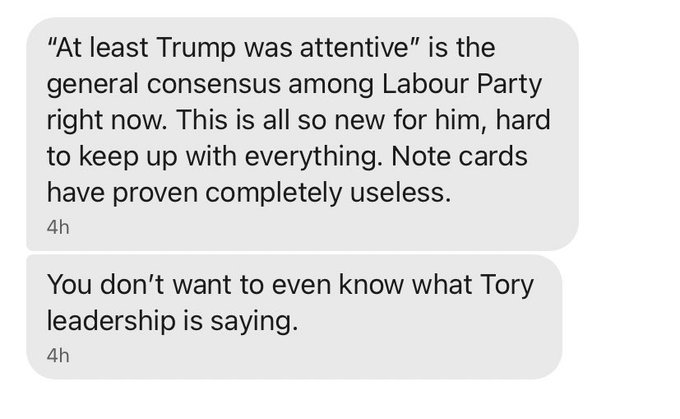 This comes after Biden was called "senile" by one Tory MP.
JOE Biden has been urged to back Britain in the sausage wars with the EU by one Tory MP who said the US should "remember who their allies are".

The American President was branded "senile" by the Brexiteer parliamentarian in an extraordinary personal attack on the eve of the G7 summit.
Maybe Joe Biden should have prepared for the G7:
Prepping for the G7. pic.twitter.com/drPmb2vBwI

— Jill Biden (@FLOTUS) June 9, 2021
The Palmieri Report is a Pro-America News Outlet founded by Jacob Palmieri four years ago at the age of 19. Since its founding, it has gotten over 2M pages views and over 20k followers. The Palmieri Report is dedicated to giving people the truth so that they can form their own informed political opinions.