45th President Donald Trump continues to call out the fake news media and Democrat narrative regarding January 6th.
Trump just released a statement pointing out that the speech was given as a way to distract from the failures of the Biden administration and Democrat party.
The statement also described the events on January 6th as a "Pelosi-led security failure."
This is one of Trump's best statements yet and a must-read.
NEW!

President Donald J. Trump:

"What we witnessed yesterday was the last gasps of a corrupt and discredited left-wing political and media establishment that has, for decades, driven our country into the ground…" pic.twitter.com/QPgljecvR3

— Liz Harrington (@realLizUSA) January 7, 2022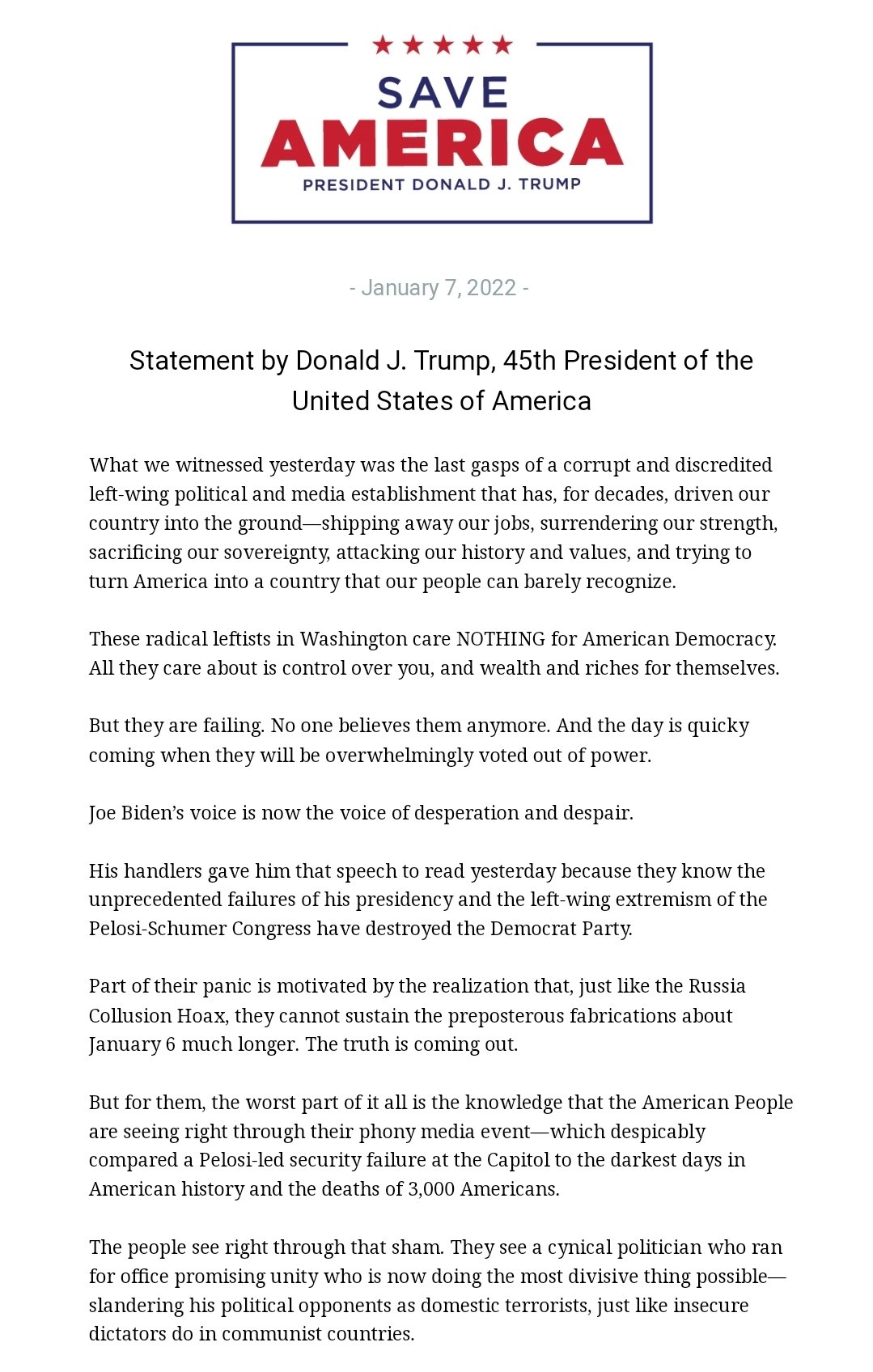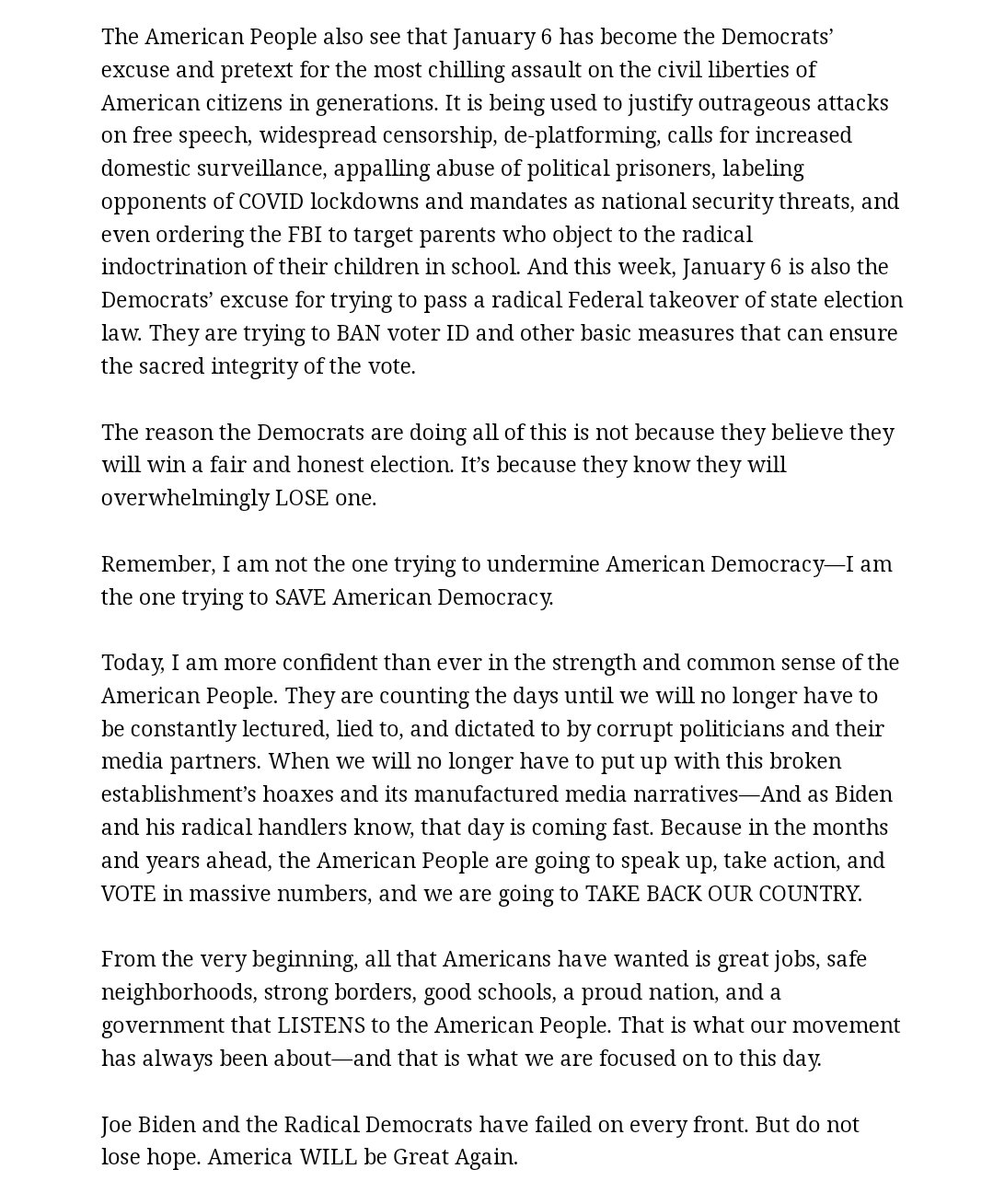 GOP Rep Elise Stefanik also exposed Pelosi's failures on January 6th:
Powerful GOP Rep Calls Out Pelosi For Her Role In Jan 6th–Exposes Pelosi For Stonewalling Investigation
Pelosi is currently stonewalling the investigation into her role:
'What is she hiding?' Top Republican accuses Pelosi of coverup by withholding Jan. 6 documents | Just The News https://t.co/oLi4vdN0xX

— Just the News (@JustTheNews) January 7, 2022
The top Republican on the House committee that oversees U.S. Capitol security is blasting Speaker Nancy Pelosi for refusing to release key evidence showing the security planning prior to the Jan. 6 riots and is warning that the police force that protects lawmakers has not reformed itself enough to avoid another tragedy

"We know there were intelligence analysis failures at the Capitol Police," Rep. Rodney Davis (R-Ill.) told the John Solomon Reports podcast during an interview Thursday on the one-year anniversary of the Capitol riots. And frankly, John, I don't think those have been corrected yet.

"Our job is to protect the Capitol, and they're making the same bad decisions," he said.

…

Another official disputed the ex-chief's account, but the documents showing what actually transpired between them have been blocked from release by Pelosi, even as the Democrat-led Jan. 6 Select Committee demands documents and testimonies from former Trump officials about the Jan. 6 tragedy.

"They will not comply and give that info to us," Davis told Just the News. "At a time when the Speaker through this sham Select Committee is asking and getting voluntarily thousands of communications from people who are no longer employed by government, she is denying that committee of jurisdiction access to government communications. What is she hiding?

"All we ever asked for is we want communications leading up to and on Jan. 6, we want to be preserved, we want to be turned over to us, because my job, my job is to make sure that the Capitol is secure. And it's laughable to think that that's not germane to making sure that we don't make those same mistakes again."
For the antidote to media bias, check out ProTrumpNews.com
The Palmieri Report is a Pro-America News Outlet founded by Jacob Palmieri. The Palmieri Report is dedicated to giving people the truth so that they can form their own informed political opinions. 
Follow us on social media:
GETTR Link–Parler Link–Telegram Link
We appreciate feedback. Click here to send us any comments and corrections. 
Listen to our Daily News Podcast!