The New York Times continues to be the leader in Fake News.
This time they really messed up.
A report from The New York Times claimed that nearly 900,000 kids had been hospitalized with COVID-19 since the pandemic began.
The real number was only 63,000.
They also misstated what happened regarding the vaccines in Denmark and Sweden
In an article published by New York Times reporter Apoorva Mandavilli on Wednesday, Times readers were told that "nearly 900,000 children have been hospitalized with COVID-19 since the pandemic began."

A correction issued on Thursday notes that the correct number is 63,000 between August 2020 and October 2021, which means Mandavilli exaggerated the number of child hospitalizations by 837,000 cases or 93 percent. Approximately 500 American children have eventually died from the disease. The exaggeration was included in a report on the debate surrounding whether and how to vaccinate children.
Mandavilli was previously exposed as a radical leftist:
Mandavilli has been a controversial figure at the Times for her ideologically-colored pandemic coverage. In May, she tweeted that "Someday we will stop talking about the lab leak theory and maybe even admit its racist roots. But alas, that day is not today." She later deleted the tweet but not before adding "a theory can have racist roots and still gather reasonable supporters along the way. Doesn't make the roots any less racist or the theory a
The article addresses that other countries are slowing down on vaccinating children 12-17, either stopping it altogether or just giving one dose. The whole piece is about how other countries are weighing the risks and then in the US we're like nah, let's just do it. pic.twitter.com/LqNsfMtjif

— Karol Markowicz (@karol) October 8, 2021
Here are the corrections: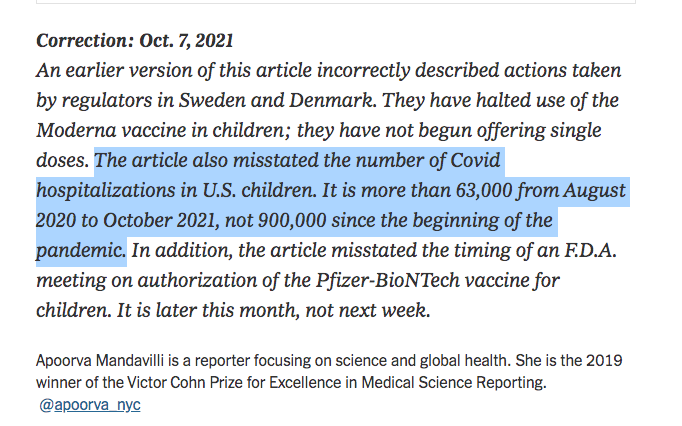 The Palmieri Report is a Pro-America News Outlet founded by Jacob Palmieri. The Palmieri Report is dedicated to giving people the truth so that they can form their own informed political opinions. You can help us beat Big Tech by following us on GETTR , Telegram, and Rumble.