Former Attorney General William Barr has officially exposed himself as a corrupt establishment government official.
Rather than calling out the left he has run to the media to become a full-on anti-Trumper.
William Barr had a duty to uphold the law – he failed.
He didn't tell the American people that Hunter Biden and his business associates were under federal investigation
He refused to look at credible evidence of election fraud in the 2020 election.
(No one in Trump's orbit ever asked for evidence of fraud to be made up. They asked for voter fraud evidence to be investigated. Barr refused to investigate)
Tony Shaffer: Bill Barr "Disregarded And Ignored" Voter Fraud Evidence
Now, we have this.
45th President Donald Trump released a statement explaining why he took his left-wing turn. It had nothing to do with Barr not believing the evidence – Barr was scared he would have been impeached.
NEW!

President Donald J. Trump:

"Former Attorney General Bill Barr wouldn't know voter fraud if it was staring him in the face—and it was. The fact is, he was weak, ineffective, and totally scared of being impeached, which the Democrats were constantly threatening to do… pic.twitter.com/Z144I6sl0b

— Liz Harrington (@realLizUSA) March 4, 2022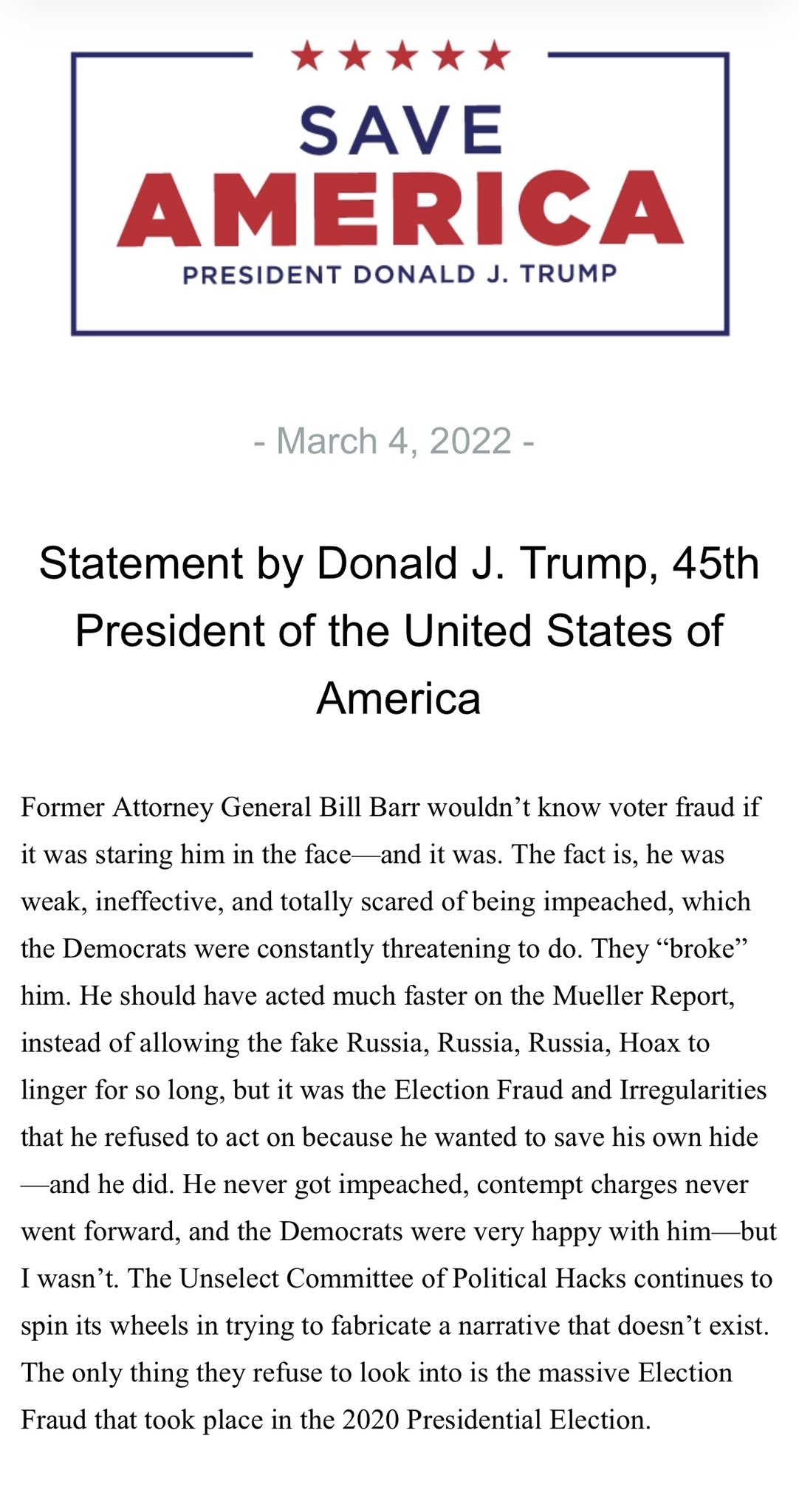 For the antidote to media bias, check out ProTrumpNews.com
The Palmieri Report is a Pro-America News Outlet founded by Jacob Palmieri. The Palmieri Report is dedicated to giving people the truth so that they can form their own informed political opinions. 
Follow us on social media:
GETTR Link–Parler Link–Telegram Link
We appreciate feedback. Click here to send us any comments and corrections. 
Listen to our Daily News Podcast!