According to a new poll from The Trafalgar group, Joe Biden's approval has hit a new low after announcing his push for a vax mandate.
Details from the poll:
Approve: 43.5%
Strongly approve: 25.5%
Disapprove: 54.3%
Strongly Disapprove: 48.2%
#BidenApproval hits a new low after #VaccineMandate press conference. @trafalgar_group #PresidentialApproval #poll Conducted 9/8-9 (2nd night after #Mandate announcement).

43.5% Approve,
54.3% Disapprove,
2.1% No Opinion,

See Report: https://t.co/ul8gFtqHKp pic.twitter.com/snEwMwQnQj

— The Trafalgar Group (@trafalgar_group) September 10, 2021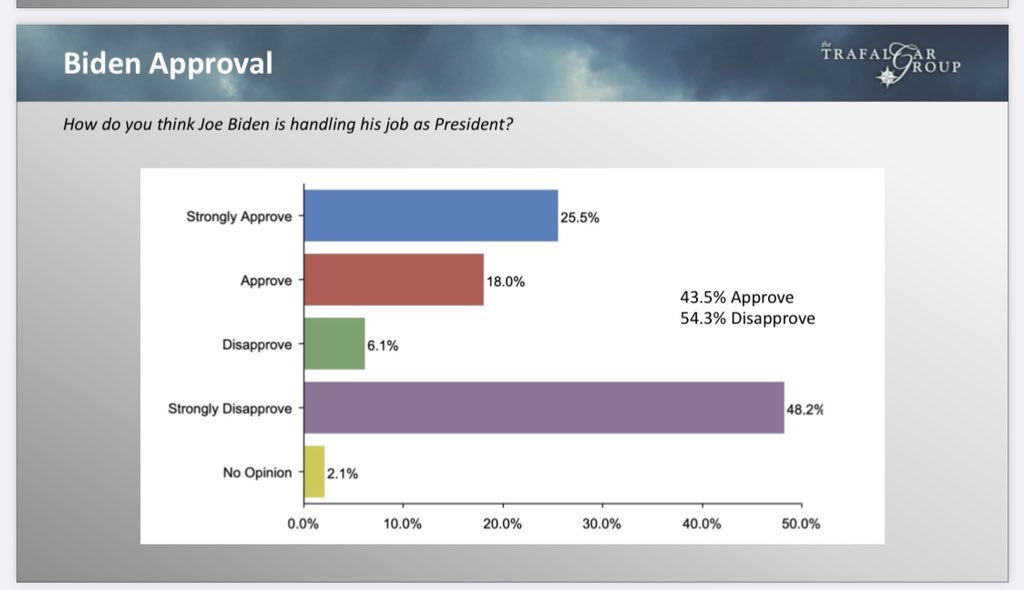 Biden isn't just getting backlash from voters.
He has also gotten fierce backlash from elected officials in the GOP.
Senior White House adviser Cedric Richmond threatened that the Biden Administration would "run over" governors that stood in the way of COVID vaccination mandates.
Senior White House adviser Cedric Richmond declared Thursday that President Joe Biden would "run over" governors that stood in the way of his efforts to mandate vaccinations against the coronavirus in companies with more than 100 employees.

Appearing on CNN's "Don Lemon Tonight," the former Democratic Louisiana congressman said the administration wouldn't "let one or two individuals stand in the way" of their efforts to save lives, and that they would do "anything and everything" within their control to make sure that citizens were protected.
Biden responded to GOP governors who are resisting the COVID vaccine mandate by saying he was "disappointed" in them.
REPORTER: "What is your message to Republicans who are calling your vaccine requirements an overreach— who are threatening to challenge it in court?"

BIDEN: "Have at it." pic.twitter.com/11nqrxmLkL

— Danny De Urbina (@dannydeurbina) September 10, 2021
President Biden said he's "disappointed" in the Republican governors who plan to resist his vaccine mandate and are threatening legal action.

"I am so disappointed," Biden said Friday during a visit to the Brookland Middle School after he told a reporter to "have at it" regarding a question about Republicans who have pushed back on his six-point coronavirus plan. "Particularly, some Republican governors have been so cavalier, with the health of these kids. So cavalier with the health of our communities.

"This isn't a game," he added.
The Palmieri Report is a Pro-America News Outlet founded by Jacob Palmieri four years ago at the age of 19. Since its founding, it has gotten over 2M pages views and over 20k followers. The Palmieri Report is dedicated to giving people the truth so that they can form their own informed political opinions.