Biden held a Townhall with CNN.
As expected it had a pathetic crowd size.
Even a Mainstream Media reporter reported that the Town Hall was half empty.
What the Biden CNN town hall looks like from the back of the auditorium: pic.twitter.com/juUehd7PDu

— Jennifer Epstein (@jeneps) July 22, 2021
Why would CNN leave half the auditorium empty for a Townhall?
The auditorium at President Biden's town hall is barely half full, according to pool reporters covering the event.

Voice of America journalist Steve Herman posted video and photos that showed dozens and dozens of empty seats at Mount St. Joseph University in Cincinnati, Ohio.

The town hall, which was broadcast on CNN, showed attendees packed into the front rows – shoulder to shoulder. Most of the crowd was unmasked as was the CNN staffers.

Herman said he asked the White House for an explanation about the audience size.

"When I queried @WhiteHouse officials about why the auditorium is only 1/3 full, the answer I got is: 'Ask CNN.'" he said.
Spot the difference between Biden And Trump:
Trump's last rally: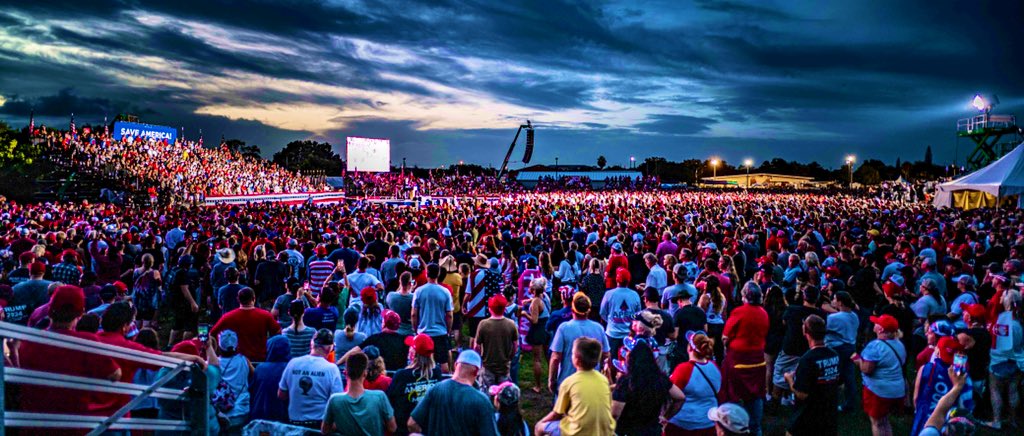 Biden's Townhall:
He was mocked on Twitter:
Remember when they used to explain away his double-digit crowd turnouts on the coof and crowd density concerns? Here's a whole ass four dozen people packed elbow to elbow, at least half of them members of the press. https://t.co/Kti82EGx5q

— Name cannot be blaด็็็็็็็็็็็็็็็็็็็็็็็k (@PunishedBoomer) July 22, 2021
Most votes in history folks… https://t.co/bnxDbR1qLZ

— L.Rose 🇺🇸 (@Leerose1985) July 22, 2021
81 million my ass https://t.co/dwFwZKh5KP

— Doodles 🇺🇸 (@DoodlesTrks) July 22, 2021
We are all severely underestimating how fake the polls, Biden twitter likes, and fakestream propa news are.

I'm an analytical kinda guy, but this (and his election campaign) shouldn't add up correctly in any functional mind. https://t.co/1vqjxX6x64

— Golden Advice 🇺🇸🇺🇲🇺🇲 (@RichardStiller4) July 22, 2021
LMFAO! 😂 Nobody wants to watch that turnip-brained #FakePresident. We're all waiting on the LEGITIMATE President, this Saturday. Go away, @JoeBiden! @POTUS #TrumpWon https://t.co/gFtXk7XF5o

— Christian Jacobs 🇺🇸 (@PPerfect_CJ) July 22, 2021
82 million votes

— Ames (@RestingTwitFace) July 22, 2021
So, about like his campaign rallies.

But 81 mil legit votes. https://t.co/Bi57B1qtyL

— P3 Driver 🎄 Let's Go (@p3driver) July 22, 2021
Most votes in the history of elections my ass. https://t.co/izbCls5nrb

— THE CLOCK IS TICKING (@neila0081) July 22, 2021
That is 81 million votes right there. Believable. His popularity is tremendous. #BidenTownHall. https://t.co/J5k3htVj0B

— Carmine Sabia (@CarmineSabia) July 22, 2021
https://twitter.com/toddstarnes/status/1418010203581206538?s=20
These were just a few of them. 
The steal is obvious.
The Palmieri Report is a Pro-America News Outlet founded by Jacob Palmieri four years ago at the age of 19. Since its founding, it has gotten over 2M pages views and over 20k followers. The Palmieri Report is dedicated to giving people the truth so that they can form their own informed political opinions.