81 million vote-getter Joe Biden once again drew a small crowd at his event for Virginia gubernatorial candidate Terry McAuliffe.
He was also heckled.
Biden heckled at Terry McAuliffe rally, plagued by another small crowd https://t.co/2sQvEQg0gK

— Fox News (@FoxNews) July 24, 2021
President Biden was heckled by an audience member during an appearance in Virginia on Friday and stopped his speech to address the individual.

"That's OK, that's alright, let him talk," Biden said as the crowd began to stir when an unknown individual started yelling from the back.

"Look, it's not a Trump rally let him holler, no one's paying attention," he added, causing Virginia gubernatorial candidate Terry McAuliffe, the Democrat Biden was there to support, to chuckle and clap in the background.
Here is the video of him being heckled:
"This isn't a Trump rally," President Biden said to a heckler at a campaign rally in Virginia. "Let them holler, no one is listening." pic.twitter.com/7Xwgia46Mz

— LiveNOW from FOX (@livenowfox) July 24, 2021
Here is a look at Biden's crowd:
The setup in Arlington where Pres. Biden will campaign for Terry McAuliffe in a couple of hours.

Vibe here is very much like a pre-pandemic campaign event. Upbeat music. Ice cream. Campaign people walking through w/clipboards.

Some people wearing face masks but most are not. pic.twitter.com/gU7ZrXdNuR

— Sean Sullivan (@WaPoSean) July 23, 2021
Here is a Trump's last rally: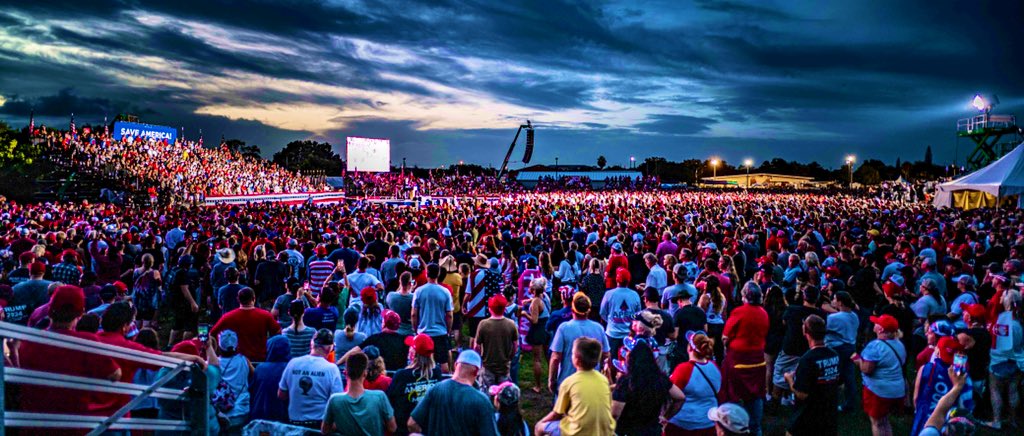 The Palmieri Report is a Pro-America News Outlet founded by Jacob Palmieri four years ago at the age of 19. Since its founding, it has gotten over 2M pages views and over 20k followers. The Palmieri Report is dedicated to giving people the truth so that they can form their own informed political opinions.