Donald Trump just shredded Twitter again–he released a statement calling Twitter "a disgrace to democracy."
He also said "they shouldn't be allowed to do business in this Country."
NEW!

President Donald J. Trump:

"Twitter is a disgrace to democracy. They shouldn't be allowed to do business in this Country. Marjorie Taylor Greene has a huge constituency of honest, patriotic, hard-working people. They don't deserve what's happened to them on places like… pic.twitter.com/1k8EBViWTc

— Liz Harrington (@realLizUSA) January 4, 2022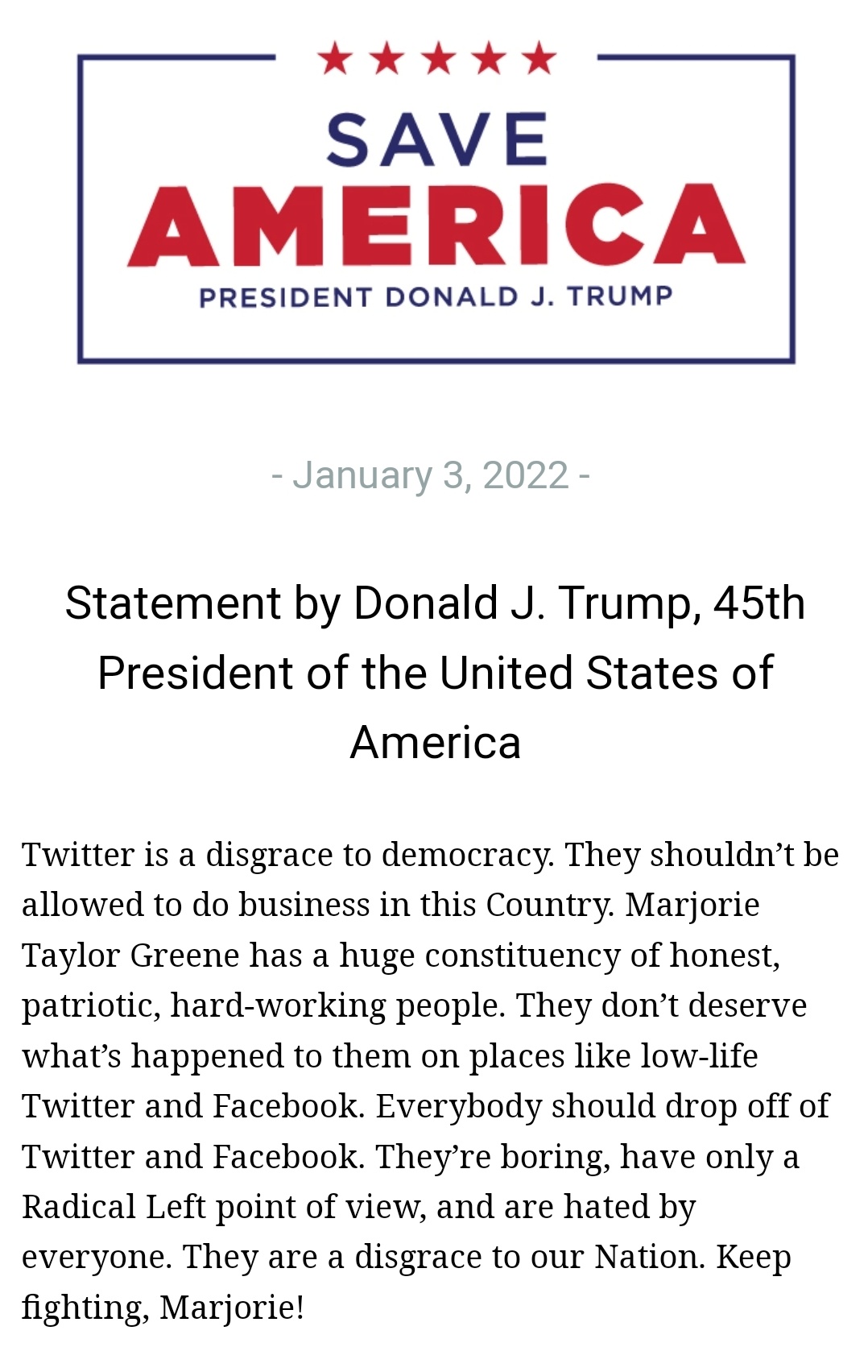 "Twitter is a disgrace to democracy. They shouldn't be allowed to do business in this Country. Marjorie Taylor Greene has a huge constituency of honest, patriotic, hard-working people. They don't deserve what's happened to them on places like low-life Twitter and Facebook. Everybody should drop off of Twitter and Facebook. They're boring, have only a Radical Left point of view, and are hated by everyone. They are a disgrace to our Nation. Keep fighting, Marjorie!"
Here is what Twitter didn't want you to see:
Here Is The Chart That Got Marjorie Taylor Greene Suspended From Twitter
For the antidote to media bias, check out ProTrumpNews.com
Follow us on social media:
The Palmieri Report is a Pro-America News Outlet founded by Jacob Palmieri. The Palmieri Report is dedicated to giving people the truth so that they can form their own informed political opinions. 
We appreciate feedback. Click here to send us any comments and corrections. 
Listen to our Daily News Podcast!