Trump just released another statement on Liz Cheney. 
In the statement, Trump exposed that RINOs in Wyoming have done all they can to give her a chance to keep her seat.
He also reiterated his call for only one conservative to primary Liz Cheney.
NEW!

President Trump:

"The easiest way to defeat Deplorable Liz Cheney is by having only ONE Conservative candidate run and WIN! Wyoming Patriots will no longer stand for Nancy Pelosi and her new lapdog RINO Liz Cheney!" pic.twitter.com/2yYvKhlrVw

— Liz Harrington (@realLizUSA) July 30, 2021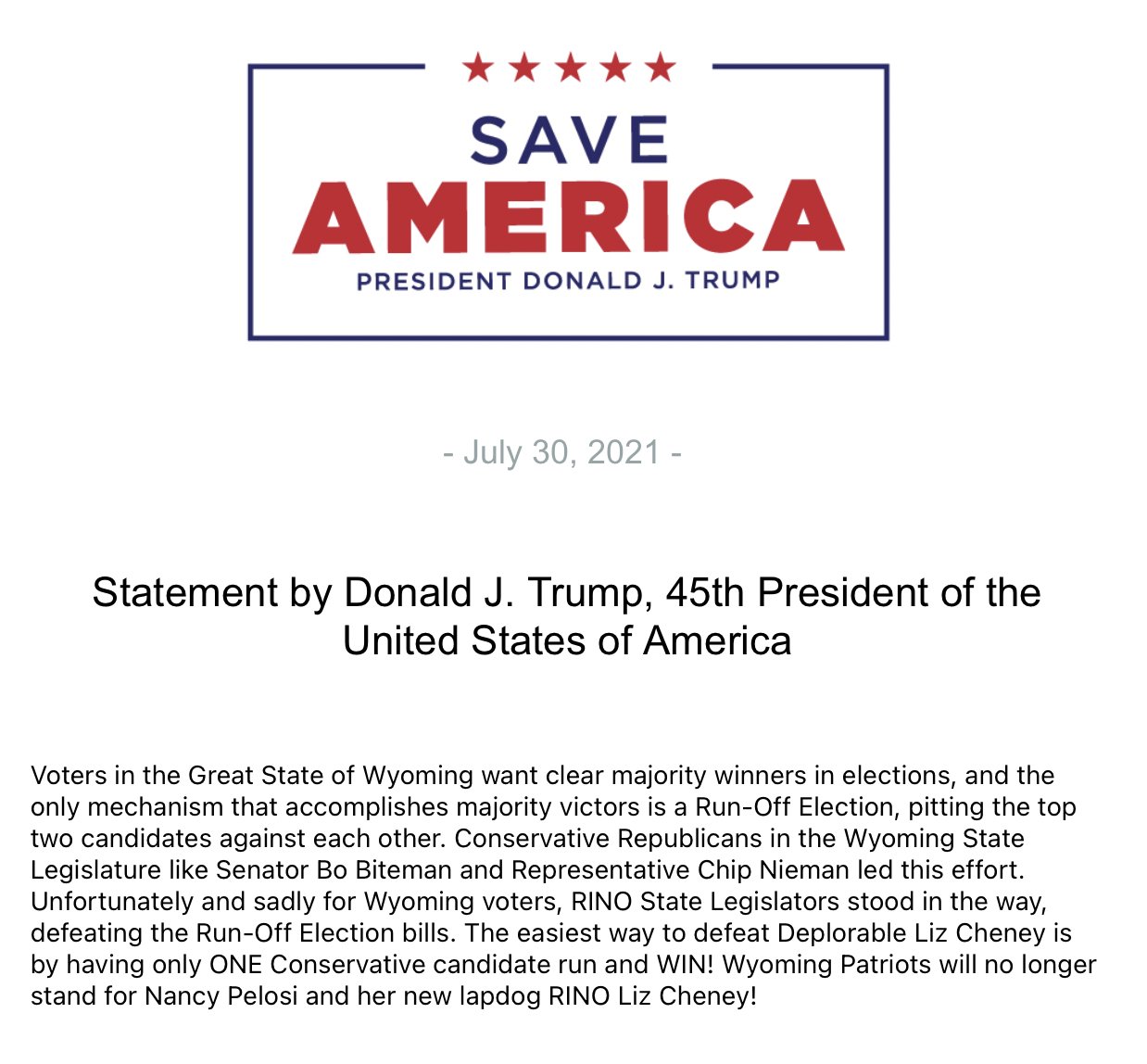 Here is the plot he is talking about.
RINOs in the state legislator blocked a bill that would force a run-off between the two candidates if no one got 50% of the vote.
This would mean that Liz Cheney could not win the primary by sneaking away with less than 50% of the vote in a multi-candidate runoff.
The Wyoming Senate narrowly defeated Senate File 145 on a third reading vote of 14-15 (with one senator excused) on Wednesday. The legislation would have created primary runoff elections in Wyoming if no candidate were to receive over 50% of the vote.

With the proposal back backed by Donald Trump Jr. as he looks to support challenges to Wyoming's U.S. Rep. Liz Cheney's re-election efforts in 2022, the legislation caught the attention of The New York Times, which in turn caught the attention of Sen. Ed Cooper (Big Horn, Fremont, Hot Springs, Park, Washakie County).
As we previously reported, Liz Cheney would have no chance of winning a runoff between her and only one other strong conservative.
The poll showed her losing in a multi-candidate race as well but it was much closer.
We need only one candidate to run so that Liz Cheney and the RINOs lose and lose big.
The Palmieri Report is a Pro-America News Outlet founded by Jacob Palmieri four years ago at the age of 19. Since its founding, it has gotten over 2M pages views and over 20k followers. The Palmieri Report is dedicated to giving people the truth so that they can form their own informed political opinions.